Five of the best cycling April Fools jokes of 2016
The world was awash with April Fools jokes this morning and here is a roundup of the best ones from cycling...well we think they're jokes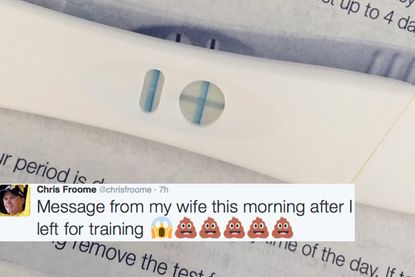 April 1 is a time for hilarity to ensue around the world, but only before 12pm. Cycling people took time out of their busy schedules to fill our mornings with a little mirth.
Here are a few that caught our eye, but definitely did not have us fooled for a second…well, maybe one second.
Dan Lloyd joins Team Dimension Data
As far as April Fools jokes go, this one is by far the most elaborate we've seen for a while. GCN presenter Dan Lloyd reportedly signed for Team Dimension Data at the ripe old age of 35 and everyone was in on it.
The team tweeted it, the riders tweeted it, Cervelo bikes tweeted it, the management tweeted it, Road.cc even did a story on it.
Unfortunately George Hincapie wasn't in on it, tweeting a picture of Lloyd and GCN colleague Simon Richardson in their GCN kit on the Koppenberg.
Unless it isn't a joke and Lloyd just broke his contractual obligation to wear Dimension Data kit on day one...
Chris Froome's having a baby
We're not entirely sure if this was a pre-planned April Fool, but either way it showed that Chris Froome forgot that this time last year that he and his wife Michelle were expecting a baby.
Froome had to work pretty quickly to tell everyone that it was actually just a joke, and his fess-up tweet was a pretty good one.
Lance Armstrong gets banned from his local beer ride
Is there any ride in the land that Lance Armstrong is welcome at now? The Aspen Daily News revealed that Armstrong is now banned from 'Tuesday Cruiseday' - a beer ride organised by a local brewery - for taking it too seriously.
The Texan took it in good humour, tweeting that he'll appeal the decision.
Look Mum No Hands's 'Steak on Cobbles'
To be fair, this actually looks pretty good. To celebrate the cobbled Classics, London cycling cafe Look Mum No Hands advertised a 'Steak on Cobbles' food deal.
A lovely, juicy steak on some authentic Belgian pavé with chips served in a cycling hat and a beer in a bidon. If this isn't actually a thing then it definitely should be.
The Absinthe energy gel
Do you like riding your bike while supping on high-strength alcoholic drinks? Look no further than Secret Training's new absinthe energy gel.
It'll certainly get you fired up for your ride!
Thank you for reading 20 articles this month* Join now for unlimited access
Enjoy your first month for just £1 / $1 / €1
*Read 5 free articles per month without a subscription
Join now for unlimited access
Try first month for just £1 / $1 / €1