Garden Bridge a "private garden platform pretending to be a bridge", says renowned designer
Cyclists will be banned from crossing London's Garden Bridge, which is one of the reasons why experts and campaigners have slammed the design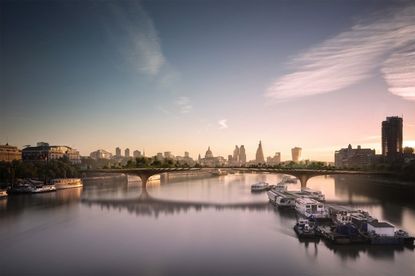 Critics of London's proposed Garden Bridge, which will span the River Thames between Temple and the South Bank, have gathered to voice their concerns over Thomas Heatherwick's design.
The £175m bridge does not have any provision for cyclists, while access to pedestrians will also be restricted, which has left a number of world-renowned bridge designers perplexed.
At a meeting in Waterloo, Alistair Lenczner, who lead the design team of the Milau Viaduct in France, claimed the bridge was a "private garden platform pretending to be a bridge" for which the need and brief were retrofitted to the design.
>>> Garden Bridge application passed by Westminster Council, with cycling prohibited
The lack of cycling provision has caused some concern among politicians, campaigners and the public, with the chair of the London Cycling Campaign speaking out at the meeting
"It would be appalling for so much public money to be spent at this time on a new river crossing which excludes cyclists," Ann Kendrick said.
"This project does not seem to have been thought through. By 2030, we will have 10m people in London and there will have been a massive increase in the numbers of people on bikes."
>>> Cycling will be banned on London's 'Garden Bridge'
The leader of the Green Party, Natalie Bennett, said the £60m of public funding awarded to the bridge could be used to create areas of urban green space around the city.
In December, Westminster Council's Planning Applications Committee voted 3-1 in favour of the bridge, confirming that cycling would be banned from using it.
Transport for London reportedly are offering £30m towards the construction, which will be matched by the Treasury.
Thank you for reading 20 articles this month* Join now for unlimited access
Enjoy your first month for just £1 / $1 / €1
*Read 5 free articles per month without a subscription
Join now for unlimited access
Try first month for just £1 / $1 / €1