Garden Bridge application passed by Westminster Council, with cycling prohibited
Thomas Heatherwick's £175m Garden Bridge looks set to be given the go-ahead, with cyclists banned from riding over it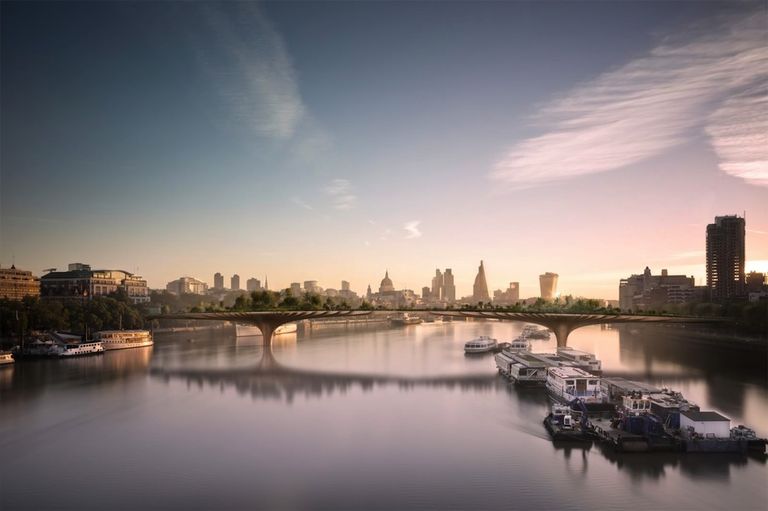 Westminster Council have approved the planning application for the controversial Garden Bridge over the Thames, confirming that cycling will be prohibited on the crossing.
In a meeting of the Planning Applications Committee on Tuesday (December 2), councillors voted 3-1 in favour of the bridge, which has been designed by Thomas Heatherwick.
The £175m bridge will stretch between the Southbank and Temple and will cost £3.5m in annual maintenance. Twenty-four hour security will be in place for the first year of opening, with the bridge open to the public between 6am and midnight.
The planning document by Westminster Council confirmed that cyclists will be banned from riding across the bridge.
"The Garden Bridge will prohibit cycling on the bridge deck, although cyclists can dismount and push their bicycle across the bridge on foot," the document reads. "The justification given for not allowing cycling on the bridge is accepted. The bridge would have to be redesigned with segregated cycle paths which would reduce the value of the bridge as a green open space."
The council did, however, recommend that the designers reconsider the 38 cycle parking spaces planned for the north landing, stating that with the Victoria Embankment due to form part of the east-west cycle superhighway, 38 spaces would not be sufficient.
Transport for London has reportedly agreed to pay £30m towards the bridge, which will be matched by the Treasury, while the Garden Bridge Trust says it has raised £120m which will go towards the running costs.
Cycling and protesting will be banned on Thomas Heatherwick's £60m 'Garden Bridge' over the Thames, which will be run as
Mayor of London Boris Johnson says he will ask TfL to consider the impact of banning cars on some London