Cycling will be banned on London's 'Garden Bridge'
Cycling and protesting will be banned on Thomas Heatherwick's £60m 'Garden Bridge' over the Thames, which will be run as a visitor attraction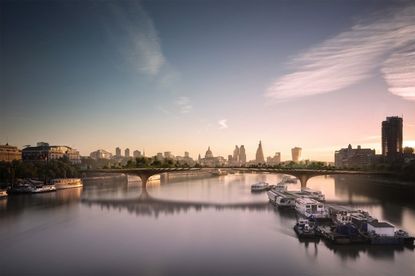 A £60m 'garden bridge' over the River Thames will have no legal public right of way, with cycling and protest groups banned, it has been announced.
The bridge, designed by Thomas Heatherwick and supported by actress Joanna Lumley, will span the river from Temple station to the Southbank Centre and will cost £3.5m per year to operate and maintain.
Groups of eight or more visitors will be required to book in advance in order to 'assist visitor management' and also 'discourage protest groups from trying to access the bridge'.
But cyclists will be banned from riding their bikes across the bridge, which will only be accessible for 18 hours a day, because inserting cycle lanes would reduce the area available for plants.
A Lambeth Council planning document, seen by Building Design magazine, confirms: "Cyclists would be able to push bikes over but not ride. If cyclists were allowed to ride, to provide a safe pedestrian environment it would be necessary to incorporate segregated cycle lanes or wider shared paths. This would result in a much reduced planted area and erode the benefits of the bridge as a green space."
Mayor Boris Johnson has regularly spoken in favour of cycling initiatives in the city, but political adversaries are accusing him of trying to create a tourist attraction rather than a way to cross the Thames.
London Assembly Green Party member Darren Johnson told the Independent: "I was really shocked to discover that this bridge is receiving £60m from the joint transport budgets of the Mayor and the national government, but the public have no guaranteed right of way.
"Central London is a 24 hour city, but under the current proposals there is effectively no bridge for at least a quarter of the day.
"Given the scale of public funding for this bridge I would have expected the Mayor to have pinned down guarantees that Londoners will be able to use this bridge to cross the river 24/7 in ten or twenty years' time."
Source: Independent /Building Design (via Dezeen)
March and 'die-in' on Oxford Street attracts thousands of protesters.
Three friends, three gears, 300km
Thank you for reading 20 articles this month* Join now for unlimited access
Enjoy your first month for just £1 / $1 / €1
*Read 5 free articles per month without a subscription
Join now for unlimited access
Try first month for just £1 / $1 / €1