London to Paris on a Boris Bike (video)
Three friends cycle three-geared bikes 300km from London to Paris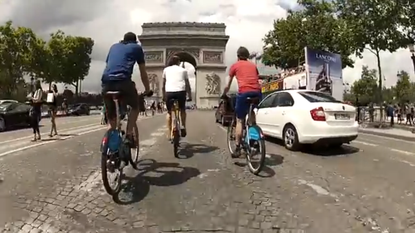 If you've ever tried to manoeuvre a Boris Bike around London you'll know that just 30 minutes in the saddle can seem like an eternity.
So when designer James Greig and his friends Graham McLoughlin and James Holt decided to use Boris Bikes to cycle from London to Paris they must have had their fingers crossed that they didn't come across many hills.
It's not the first time the London bikes have made their way to France — in January, CW caught up with the team who cycled one up Mont Ventoux.
But Greig and co's plan was slightly more realistic: to cycle the 300km between London and Paris.
Greig said on his Cyclelove blog: "Back in the summer, and completely out of the blue, I received a phone call from my friend Graham at Borough. 'I'm going to ride a Boris Bike from London to Paris. Do you want to come with me?'
"Without thinking I said yes."
Leaving London on July 7 – the day the Tour de France came to town – the trio plotted their route based on accommodation found on Airbnb.
The video, from filmmaker Chris Lawson, follows the three friends, riding three gears for 300km to Paris.
More cycling videos
Animation by Sentio Space captures the journey and challenges from John O'Groats to Land's End of four friends on a
Thank you for reading 20 articles this month* Join now for unlimited access
Enjoy your first month for just £1 / $1 / €1
*Read 5 free articles per month without a subscription
Join now for unlimited access
Try first month for just £1 / $1 / €1