80% in support of new London Cycle Superhighways, as consultation ends
The majority of 14,000 respondents to the new Cycle Superhighways consultation are supportive of the plans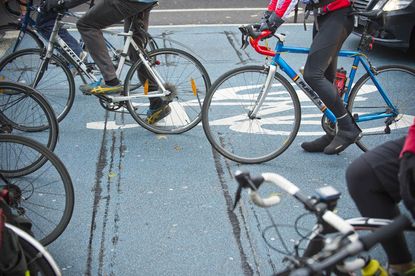 (Image credit: rupert fowler)
Get The Leadout Newsletter
The latest race content, interviews, features, reviews and expert buying guides, direct to your inbox!
Thank you for signing up to The Pick. You will receive a verification email shortly.
There was a problem. Please refresh the page and try again.
London's business community and individuals have got behind the Cycle Superhighways in large numbers, with 14,000 responses received to the 'crossrail for bikes' consultation; 80% of those positive.
Andrew Gilligan, London's cycling commissioner, revealed the figures on the BBC's Politics Show as the consultation for the East-West and North-South routes closed yesterday (November 9).
Meanwhile the campaigners behind Cyclingworks.london, the website set up to log business support for the segregated routes, said they were "overwhelmed" by the positive responses, with more than 165 employers backing the cycle superhighways.
CyclingWorks.London coordinator, Chris Kenyon, said: "At the beginning of this consultation we had a trickle of businesses telling us they wanted to support the Mayor's cycling plans. By the end of it we were overwhelmed with responses. From Bishops to bankers, from a sofa delivery company to some of London's most exclusive lawyers, one CEO after another has taken the time to tell us – and the Mayor – that they want these safe cycle routes built without delay."
Gilligan told the BBC Politics show: "We had absolutely overwhelming support for this in London"
He pointed out Rothschild and Deloitte had recently signed up in support of the routes. "These businesses are all in the city, they all love it. There is only one business in the city that has come out against it and you have them in your piece, Canary Wharf."
He added there were "...14,000 responses to the consultation 80% in support. A YouGov poll showed 63% in support of the routes, even if they did slow down traffic."
Earlier in the campaign City of London Police had come out in favour of the plans, a strong endorsement for a more cycle friendly central London.
With the strong support there are still vocal critics to the scheme. Concerns raised by Canary Wharf and the passenger lobby group London Travelwatch, are that "gating" of traffic outside the cycle routes, where motor traffic is held back from central London to reduce congestion on key roads, will worsen congestion in outer London. Gilligan confirms this is the case for one road, The Highway, east of Tower Hill, where the East-West cycle superhighway starts, but says all other routes will see negligible delays.
The head of the Licensed Taxi Drivers Association, Steve McNamara, voiced concerns over the effect of the routes on air quality, and said he would take legal advice against Transport for London were the scheme to be given the green light. A Canary Wharf spokesperson told the BBC the plans were rushed through.
Chris Kenyon adds: "Claims these plans are being rushed through are pure filibuster. The route was revealed in 2013, and will not be delivered until 2016 – three years from drawing board to completion. It's worth remembering 14 cyclists were killed on London's roads last year. Stalling for time is something London simply can't afford to do.
"There's been a tidal wave of support from companies in London who recognise that these bold Cycle Superhighway plans are not just a good thing for cyclists, but a good thing for the city as a place to employ the best talent and do business. The Mayor now has a clear mandate to build these bike tracks, it is time for him to get on with it."
More Cycle Superhighway stories
Communications giant Orange joins growing business support for planned Cycle Superhighways across the capital
Thank you for reading 20 articles this month* Join now for unlimited access
Enjoy your first month for just £1 / $1 / €1
*Read 5 free articles per month without a subscription
Join now for unlimited access
Try first month for just £1 / $1 / €1
Get The Leadout Newsletter
The latest race content, interviews, features, reviews and expert buying guides, direct to your inbox!