Orange joins call to support new London Cycle Superhighways
Communications giant Orange joins growing business support for planned Cycle Superhighways across the capital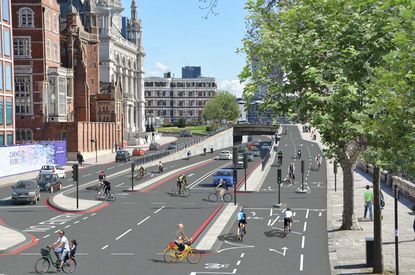 Get The Leadout Newsletter
The latest race content, interviews, features, reviews and expert buying guides, direct to your inbox!
Thank you for signing up to The Pick. You will receive a verification email shortly.
There was a problem. Please refresh the page and try again.
Communications giant Orange, as well as big name companies Unilever and Deloitte, have joined calls to support London's next generation segregated cycle superhighways proposed to crisscross the capital, including the 18 mile 'Crossrail for bikes'.
Support from businesses for the routes is growing via campaign website cyclingworks.london, from those who want employees who already cycle to work to do so more safely, as well as encouraging more employees to take up cycling for its health benefits. Many have said it will make London a more attractive place to do business.
This is in contrast to the opinions of some business leaders, among them in Canary Wharf, who fear the reallocation of road space could be detrimental to the city's traffic movements and economy.
Christine Walser-Sacau, Head of Orange's UK Group Functions & HR Director, based in Kings Cross, said: "Like many businesses in London, a growing number of our locally-based 200+ employees cycle to work. An even larger proportion of our team would cycle to the office if they felt comfortable and safe on the roads.
"We value their safety and we want to promote active lifestyles for all our employees. We support their freedom to choose how they get to work. We also note strong evidence that more cycling increases spending in local retail businesses and lowers air pollution levels."
She added the north-south and east-west routes will help attract and retain employees as well as making London a more attractive place to run their business.
Unilever, with its €50bn turnover, has 1,200 employees at Unilever House overlooking Blackfriars, where the E-W and N-S routes will meet.
Doug Baillie, Chief Human Resources Officer at Unilever, said: "We have tragically lost employees in the past who have been killed while trying to cycle to or from work. We do not want to lose any more.
"Our sister head office building in Rotterdam is surrounded by cycle lanes and an efficient urban tramway system. We see the benefits to urban mobility and quality of life.
"We value employee satisfaction, health, and wellbeing and that's why we proudly endorse the plans outlined by TfL to create new segregated routes through the heart of the city."
Barratt London, Forum for the Future, Nesta, JLL, Hammer Films, Balderton Capital, Euromoney Institutional Investor, Mediacom, Shakespeare's Globe.
London estate agents, Knight Frank, who also signed up to support the routes, produced a recent report highlighting the importance of cycling in London in easing congestion, avoiding crowded public transport and saving commuters money.
The report says: "As global cities grow and infrastructure strains to keep pace, cycle schemes offer a relatively cheap and efficient method to ease pressure on public transport, while also helping to protect the environment."
The counter argument from businesses sceptical about the routes is that the routes will significantly increase traffic in outer London and risk the safety of pedestrians, cyclists and motorists.
Designs for the cycle superhighways are currently available for public consultation until November 9.
London's proposed east-west cycle superhighway may cause delays for motor traffic during peak travel times
Boris Johnson announces that CS2 to receive £25m upgrade while 'Crossrail for bikes' plans come under fire
Array of companies show support for newly revealed plans for cross-London cycle routes
Thank you for reading 20 articles this month* Join now for unlimited access
Enjoy your first month for just £1 / $1 / €1
*Read 5 free articles per month without a subscription
Join now for unlimited access
Try first month for just £1 / $1 / €1
Get The Leadout Newsletter
The latest race content, interviews, features, reviews and expert buying guides, direct to your inbox!