Consortium propose floating cycle superhighway for the Thames
The floating bike path would provide a solution to pollution and traffic problems in the capital say consortium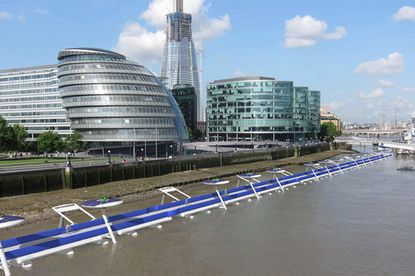 The idea for a £600m 12km floating cycle superhighway on the River Thames has been unveiled by a group of architects, artists and engineers.
The Thames Deckway would run alongside the south bank of the river from Battersea to Canary Wharf, parallel to part of the East-West Cycle Crossrail, whose designs were announced last month. One striking difference is the cost - £600m for 12km or seven miles, compared with £47m for the 18 mile Cycle Crossrail project.
Users would be charged £1.50 for a single journey on the floating track, which would be shared with pedestrians. It's unclear whether there are cyclists within the River Cycleway Consortium Ltd, those behind the Deckway, but there are claims cycle journeys along its route could be 30 minutes quicker than the same journey on roads.
An unnamed spokesperson for the Consortium said: "London needs to think outside the box of conventional solutions to solve its deep-seated traffic and pollution problems."
"The Thames offers vast, untapped potential to ease and improve London's infrastructure problems. What is needed is imagination to unleash it."
The route would have on and off-ramps along its length, though how many, or how it would go around the HMS Belfast, or avoid other moorings along the route have not been revealed. Part of the plan is that users could receive updates by satellite on traffic flow, waves and dangerous weather conditions.
The London Cycling Campaign's Tom Bogdanowicz said the LCC's priorities are the East-West and North-South routes released for consultation last month.
The Consortium includes engineering firm Arup and Hugh Broughton Architects and artists Anna Hill and architect David Nixon.
The route is similar to Norman Foster's SkyCycle, which did the rounds at the start of the year. Criticisms then were that routes of this nature are prohibitively expensive, and have too few exit and entry points, making them less attractive for everyday journeys.
It is uncertain where the route would meet land at Battersea and Canary Wharf but the designs may please businesspeople critical of the Cycle Crossrail proposals, who voiced fears the on-road routes would hinder motor traffic.
Boris Johnson announces that CS2 to receive £25m upgrade while 'Crossrail for bikes' plans come under fire
Array of companies show support for newly revealed plans for cross-London cycle routes
Thank you for reading 10 articles this month* Join now for unlimited access
Enjoy your first month for just £1 / $1 / €1
*Read 5 free articles per month without a subscription
Join now for unlimited access
Try first month for just £1 / $1 / €1