London businesses join forces to back Cycle Superhighways
Array of companies show support for newly revealed plans for cross-London cycle routes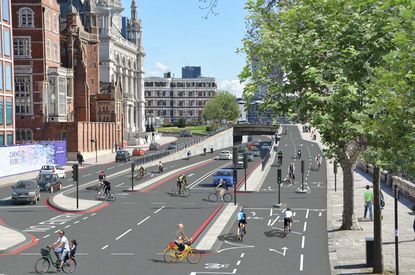 Businesses are joining together to back London's next generation cycle superhighways, including Barts NHS Trust.
A campaign website, cyclingworks.london, was set up in response to opposition and threats of legal action against the Mayor from some London businesses to the plans, which will see road space reallocated from motor traffic for segregated cycle routes across London.
Readers can support the cycle superhighways plans by writing to their bosses or signing up themselves to support the plans, as individuals and businesses.
Chris Kenyon, co-founder of cycling works and vice president of sales and business development at Canonical in London's Blue Fin Building, said: "We are making sure that businesses, a number of whom have large numbers of employees that cycle to work, speak up in support of the Mayor's two new cycle superhighways, and specifically to note the point that these plans are good for business.
"We need people to get to work quickly and safely. When we moved from Westminster to Southwark two years ago our employees told us about that their number one concern was about how they cycle across Blackfriars [Bridge, where the N-S superhighway is proposed to run] safely, because without segregated infrastructure it is frightening and unsafe for our employees and they deserve better."
Kenyon says he is in conversation with 50 companies at the moment who are supporting the plans, including, he says "big banks, large technology companies and large law firms", many of which will be announced over the coming days and weeks.
So far official supporters include Bart's NHS Trust, with 15,000 staff, Millnet, a City tech supplier, Goodsir Commercial, Pollard Thomas Edwards architects, sofa.com and Balderton Capital back the plans, and Kenyon says he will be announcing more over the next few weeks.
The Evening Standard last week ran an article quoting a "major London employer", who refuses to be named, as saying the plans are "a mess", and threatening legal action against the Mayor.
The unnamed executive, described as one of the city's biggest employers, is quoted in the Evening Standard as saying: "This is an absolute mess. We all support the policy but we can't get behind it when the whole thing is designed to block out any external views. It's simply not good enough to put pictures of an empty road on the Transport for London website and promise everything will be okay. Boris needs to get a grip because at the moment [City Hall cycling commissioner] Andrew Gilligan's plans will cause gridlock."
Results from Transport for London's traffic modelling of the proposed routes are due for release tomorrow, but they are expected to show only small delays to journeys along the route.
Rosie Downes, London Cycling Campaign's Campaigns Manager, said: "Transport for London recognise that not only must we cater for the increasing demand that exists for cycling, but that we should reallocate road space to cycling to help address the congestion that will be caused by London's rapidly increasing population.
"Creating streets that are safe and inviting for cycling means that the thousands of people who tell us they want to cycle are more likely to do so, rather than choose other modes. It's crucial we make sure TfL know that space for cycling is what's needed for this to happen."
As an employee or an employer you can sign up your business to cyclingworks.london or encourage your company to do so. You can also sign up as an individual here.
After RAC and London First air concerns over proposed 'Crossrail for Bikes', London Cycling Campaign says these concerns 'don't reflect
Laura Laker states the case for getting behind new plans for Cycle Superhighway routes across London
New route includes 18-mile cycle route running East-West through the capital city
Thank you for reading 20 articles this month* Join now for unlimited access
Enjoy your first month for just £1 / $1 / €1
*Read 5 free articles per month without a subscription
Join now for unlimited access
Try first month for just £1 / $1 / €1