Next generation cycle superhighways 'could help motor traffic flow'
After RAC and London First air concerns over proposed 'Crossrail for Bikes', London Cycling Campaign says these concerns 'don't reflect reality'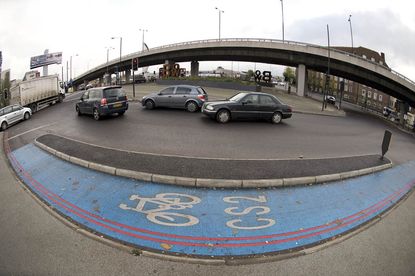 Concerns over London's proposed next generation cycle superhighways, which could criss-cross the heart of London, don't reflect the successes seen in cities which have reallocated road space to bikes, says the London Cycling Campaign (LCC).
Meanwhile London's cycling commissioner, Andrew Gilligan, responded to the RAC and business lobby London First's concerns over the effects of the routes on motor traffic, saying it reflects rapidly increasing cycling levels and declining car use in the capital.
The LCC has made it easier to support the cycle superhighway plans with a simple online tool after feedback the consultation documents, with 18 sections each, took too long to complete.
Rosie Downes, Campaigns Manager at LCC, said cycle routes can actually improve traffic flow. She said: "Concerns voiced by opponents to these proposals don't reflect the reality seen by cities that have created space for cycling. New York has recently published data showing that traffic speeds have increased on roads with protected bike lanes."
LCC's form, with a pre-written, amendable letter to Transport for London (TfL), got 1,000 signatories in its first hour, and has 2,750 to date.
Andrew Gilligan, London's cycling commissioner, told CW last week: "We need to make sure that people support these routes. I am sure there will be opposition to them - they do require reduction in motoring capacity."
However, he points out the reallocation of road space for the two-way segregated cycle lanes mirrors what is already happening on London's roads, adding there are 570,000 journeys by bike in London daily for which there is little to no provision.
He said: "[Cyclists] are 24% of traffic on the roads in central London in rush hour and that is going up - if all those people were in cars London would be unliveable.
"The fact is that every cyclist on the roads takes up a fifth of the space of cars. We have a hugely growing population, we have a hugely growing demand for transport and we can't meet that demand by putting people in motor vehicles."
Cycling is now so popular in London in some places cycle campaigners say the new segregated cycle superhighways will be too narrow to meet existing demand, let alone accommodating future growth.
Meanwhile car traffic continues to fall in the capital, with Farringdon Street, on the proposed North-South route seeing 44% less motor traffic between 2004-2013, and the Victoria Embankment, on the East - West route, 24%.
TfL's consultation documents say proposals will see longer bus, taxi and car journeys, but says it is looking into wider traffic management plans to help mitigate this. London First is urging TfL to publish details as soon as possible, and what those plans will be.
London First Infrastructure Director, David Leam, welcomes the proposals but said: "This must not make life intolerable for those on London's buses, cars, taxis, coaches and vans. As well as moving commuters, London's roads ensure we get the goods and services we need where and when we need them."
The consultation is open until 19 October.
Laura Laker states the case for getting behind new plans for Cycle Superhighway routes across London
New route includes 18-mile cycle route running East-West through the capital city
Thank you for reading 10 articles this month* Join now for unlimited access
Enjoy your first month for just £1 / $1 / €1
*Read 5 free articles per month without a subscription
Join now for unlimited access
Try first month for just £1 / $1 / €1