Minimal delays for cars expected as a result of new east-west London cycle superhighway
London's proposed east-west cycle superhighway may cause delays for motor traffic during peak travel times - However, some routes will have shorter travelling times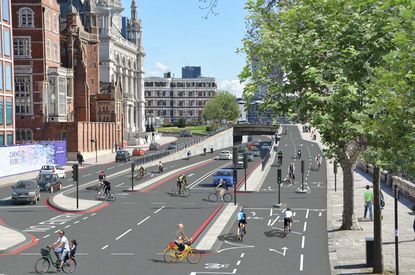 Get The Leadout Newsletter
The latest race content, interviews, features, reviews and expert buying guides, direct to your inbox!
Thank you for signing up to The Pick. You will receive a verification email shortly.
There was a problem. Please refresh the page and try again.
Figures released from Transport for London (TfL) suggest in the two busiest peak hours, cars travelling along the length of the new segregated east-west superhighway will see an average of one minute and 26 second delay, or 2-43 along the north-south route.
Transport experts believe the cycle routes, which will carry up to 3,000 cyclists per hour in places, are essential to avoid transport meltdown and potential riots as London's commuters are set to increase by 40 per cent over the coming decades.
According to TfL, a quarter of modelled journeys will be faster than at present, thanks to traffic remodelling which reduces dead time at traffic lights, while delays to buses, and to car journeys outside peak times, will be less marked.
London Cycling Campaign's Chief Executive, Ashok Sinha, believes the routes are essential to keep the rapidly-expanding city moving. He said: "There will be a 40 per cent increase in people working in central London Boroughs over the coming decades. Promoting cycling will not be the cause of congestion, it will be essential to keeping London moving."
He added: "[London's Transport Commissioner] Sir Peter Hendy has warned that overcrowding on London's public transport system could lead to riots. If we want to avoid disorder or people taking to their cars to get to work – causing even more congestion – then investing in cycling superhighways like these is an absolute must."
The east-west route could carry up to 3,000 cyclists an hour, the equivalent of 10 trains or 34 buses per hour.
The three central London sections of the routes were modelled for effects on traffic in both directions in the morning and evening peaks. Of 12 modelled journeys, seven will be slower, four quicker and one will be the same, with an average delay of 1-26. Where journeys are slower in one direction they are often faster in the opposite direction. One example is a journey from East Smithfield and Parliament Square using both the N-S and E-W routes, which will be 19 seconds slower in the morning rush hour but four minutes quicker returning in the evening peak.
Traffic lights will also be configured to load delay onto the traffic travelling against the rush hour flow to reduce the number of motoring journeys affected.
However, one journey to the east of Tower Hill could see a 16 minute delay, another 13 minutes.
London's mayor, Boris Johnson, stressed the importance of the cycle routes in keeping London moving, but struck a conciliatory note on traffic delays. He said: "We must make cycling safer for all types of cyclists – and segregated lanes must be part of the solution. In a congested city like London it is simply not possible to do this without taking some road space.
He added the design "is by no means set in stone", however, adding he will work hard to cut "notional delays, and get the right result for London".
Although some business leaders have voiced concerns over the lack of data on the effects of the routes on economy, traffic and pedestrians, many others, including Deloitte, JLL Jones, Lang LaSalle and Barratt Homes, are supporting the scheme, saying it will be good for employees, many of whom cycle, or wish to cycle, to work but are concerned about safety on London's roads.
Because the data is so complex, and due to its release three weeks after the route designs, the consultation for the E-W and N-S routes was extended to November 2.
You can show your support for the superhighways on London Cycling Campaign's website.
Transport for London links: East-west consultation; North-south consultation.
Boris Johnson announces that CS2 to receive £25m upgrade while 'Crossrail for bikes' plans come under fire
Array of companies show support for newly revealed plans for cross-London cycle routes
After RAC and London First air concerns over proposed 'Crossrail for Bikes', London Cycling Campaign says these concerns 'don't reflect
Thank you for reading 20 articles this month* Join now for unlimited access
Enjoy your first month for just £1 / $1 / €1
*Read 5 free articles per month without a subscription
Join now for unlimited access
Try first month for just £1 / $1 / €1
Get The Leadout Newsletter
The latest race content, interviews, features, reviews and expert buying guides, direct to your inbox!