Consultation period for 'Crossrail for bikes' coming to an end
The consultation period for Transport for London's plans to build an 18-mile segregated cycle route across London is set to end on November 9.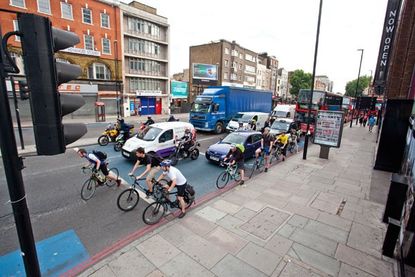 Back in September, Mayor of London Boris Johnson unveiled plans for an 18-mile 'Crossrail for bikes', stretching from Acton to Barking and taking in the Victoria Embankment.
The public consultation period is set to end on November 9, so this is your last chance to get your voice heard on the latest chapter of the capital's cycling revolution.
The £47m proposal is somewhat cheaper than its £14.5bn Crossrail counterpart, with the route estimated to be able to carry the equivalent of 10 extra tube trains worth of people every hour.
Along with the east-to-west route comes a new North-South Cycle Superhighway from Elephant and Castle to King's Cross, intersecting the cross-city route at Blackfriars.
Opposition to the plans have come from The RAC Foundation and business group London First as well as others, claiming that the entirely segregated cycle lanes would "cause gridlock".
The original six-week consultation period for both proposals was extended by three weeks after complaints about the lack of time there was to respond to the plans.
According to Transport for London, bikes make up around a quarter of rush-hour traffic in Central London, with the Mayor looking to create a safer environment for cyclists.
"The proposed Superhighway would create a separated cycle corridor to improve safety and reduce conflict between motor vehicles and cyclists," the proposal said.
"It has been designed to encourage the large numbers of people who would like to cycle, but currently feel unable to. Data from existing Barclays Cycle Superhighways suggests the new route would also draw cyclists away from other routes in central London which are less suitable for them."
You can show your support for the cycling highways through the London Cycling Campaign's website, or complete the full consultation surveys on the TfL website.
TfL East-West consultation survey
TfL North-South consultation survey
Police join calls for implementation of 'Crossrail for Bikes'
Thank you for reading 20 articles this month* Join now for unlimited access
Enjoy your first month for just £1 / $1 / €1
*Read 5 free articles per month without a subscription
Join now for unlimited access
Try first month for just £1 / $1 / €1