City of London Police back cycle superhighways
Support continues to grow for north-south and east-west "Crossrail for Bikes" scheme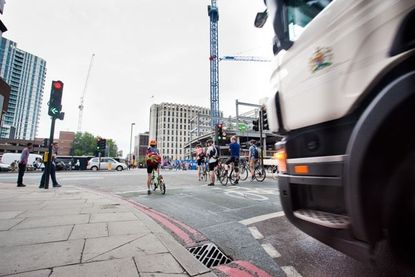 City of London Police have become the latest group to give their backing to Boris Johnson's plans for two cycle superhighways in London.
A spokeswoman for the Police told the Evening Standard: "The City of London Police supported both schemes as there is potential benefits that they could bring to cyclists and pedestrian safety."
The backing comes after the death of 26 year old German postgraduate student Janina Gehlau, who died after collliding with a lorry at Ludgate Circus.
In April, former Spanish soldier Victor Manuel Ben Rodriguez was also killed by a HGV in Ludgate Circus while a cycling to a job interview.
Plans for the cycle superhighway would see a north-south route going from King's Cross to Elephant and Castle, passing through Ludgate Circus, as well as an east-west route.
Last week, Microsoft became the latest business to back the cycle superhighways, which now have the support of over 120 businesses.
Microsoft's CEO Michel Van Der Bel said in a letter to Mayor Johnson: "Over 100 of our people regularly cycle into work. We know that others would choose to do so and gain the health benefits of active commuting if they felt comfortable on the roads."
The Transport for London consultation for the scheme is now in its final week.
Communications giant Orange joins growing business support for planned Cycle Superhighways across the capital
Array of companies show support for newly revealed plans for cross-London cycle routes
Thank you for reading 20 articles this month* Join now for unlimited access
Enjoy your first month for just £1 / $1 / €1
*Read 5 free articles per month without a subscription
Join now for unlimited access
Try first month for just £1 / $1 / €1