Transport for London reveals plans to improve Stockwell for cyclists
The Mayor of London and TfL have opened a consultation over plans to remove Stockwell gyratory and improve the Cycle Superhighway 7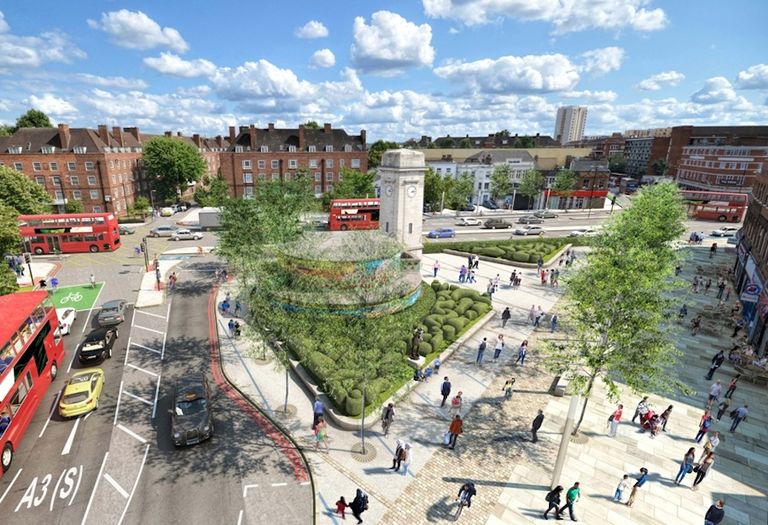 Transport for London and the Mayor of London have today begun a public consultation over plans to regenerate the roads for the benefit of cyclists and pedestrians around the current Stockwell gyratory system that links up the A3 Clapham Road and the A203 South Lambeth and Stockwell Roads.
The gyratory sits on the well-used Cycle Superhighway 7, but has been listed by TfL as one of 33 worst junctions in the capital.
The plans come as part of the Mayor's almost £1bn investment called 'Vision for Cycling' and includes creating segregated cycle lanes for the arear, as well as a seperate lighting system and Adavanced Stop Lines to allow cyclists to take priority at the junction. TfL also proposes widening bus lanes to allow cyclists easier passage when passing buses.
The number of cyclists using CS7 since its launch in 2010 has jumped around 60%, with approximately 2,500 people using it per hour during peak times, according to TfL.
Mayor of London Boris Johnson said on the plans: "Whether you're riding a bike or on foot, our plans for Stockwell will make the area a safer, more inviting place to be.
"Stockwell gyratory is one of the 33 nastiest junctions in the capital that we're overhauling to make more accessible and easier to use for all road users and residents."
The gyratory system itself will be removed and restored to a two-way working traffic system, with the Stockwell Memorial Garden located in the centre of the system to a new public space for local residents.
The consultation will remain open until January 18 and is put together in conjunction with London Borough of Lambeth road and community groups, according to TfL.
You can find out more about the proposals on the TfL site here.
Police join calls for implementation of 'Crossrail for Bikes'
Richard began working with Cycling Weekly in 2013 alongside the then web editor, Nigel Wynn. Taking over as digital editor or Cycling Weekly and mbr in 2014, Richard coordinates site content and strategy with the team.