German national team unveil new FES bike
German team is riding a new track bike from FES in Paris this week with a mono post holding the extensions and lots of horizontal forms running along the surface of the carbon frame.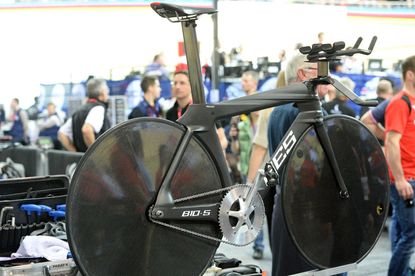 The German team pursuiters rolled out on a new FES bike at the Track world championships in St Quentin en Yvelines, Paris this week as the arms race for Rio 2016 started in earnest.
There was no covering it up either. The bike was out on a stand by the team pits with no attempt to keep their aero findings under wraps as other teams have in the past. Ahead of London 2012 Chris Boardman and his secret squirel club drip fed bits of equipment out one at a time throughout the preceeding world cup series so as not to raise awareness.
The picture above suggests the Germans have gone for as narrow a profile as possible with the extensions mounted on a single bar directly above the head tube.
We ran the pictures past an aero expert who worked with the British team over the years and asked what the purpose of those horizontal forms in the carbon were. He said it could have been one of two things. Either they're trying to channel the airflow in a certain direction, perhaps in between the riders legs, or it's a bluff. A nice bit of moulding that has the other nations thinking they're on to something when actually it makes no difference at all.
Nothing new around the top of the seat tube. It hugs the form of the rear wheel and features a neat bolt to clamp the seat pin in place. Just visible is the all important UCI Approved sticker on the front of the seat tube.
With a narrow profile to the frame the bottom bracket needs building up in order to give it the stiffness required to deal with the forces track riders can put through a frame. The team could also be developing their own cranks as the non drive-side crank has FES decals on them. The drive side is a standard Dura Ace crank and chainring.
A neat front end as the fork crown, head tube and stem flow nicely in to each other.
The 'scoop' at the bottom of the seat stay also had our aero expert questioning whether or not the Germans had found an advantage or just created an intriguing looking part for the bike. If there is any aero advantage to that flattened piece of carbon above the wheel nuts it is likely to be channelling airflow.
Thank you for reading 5 articles this month* Join now for unlimited access
Enjoy your first month for just £1 / $1 / €1
*Read 5 free articles per month without a subscription
Join now for unlimited access
Try first month for just £1 / $1 / €1