Gran and her dog riding 5000 miles around Britain's coastline
Maggie Scorer, grandmother of eight, is towing her dog Oscar around the entire coastline of Britain to raise money for charity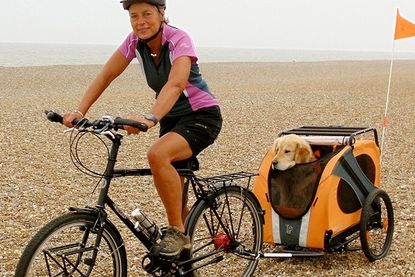 (Image credit: Maggie Scorer, www.dogontour.co.uk)
A grandmother is a fifth of her way through her quest to cycle Britain's coastline – with her dog in tow.
Maggie Scorer is riding the perimeter of the UK's roads in the hope of raising £25,000 for Leukaemia and Lymphoma Research and neonatal death charity Sands.
But she didn't want to complete the epic challenge by leaving Oscar, her seven-year-old golden retriever, back at home in Suffolk.
So Scorer, who has eight grandchildren, is cycling between 6am and 3pm every day with her beloved dog behind her.
>>> World record breaker Mark Beaumont in mammoth Africa ride
"I wasn't prepared to leave behind my dog so I thought that going by bicycle was the way to go," she told The Press and Journal.
The pair have reached Aberdeen, 1000 miles from their starting point as they head west across the coast of Scotland and then south along the west coast and into the English border.
Scorer bemoaned the "relentless wind and of course the hills in Scotland aren't too forgiving" but her overall enjoyment is matched by Oscar's feelings. "Oscar loves it," she said. "He just likes to sit in the back, look around, take it all in, and have a little bit of a snooze."
You can follow Scorer and Oscar's progress via their Twitter account and via the www.dogontour.co.uk website.
Thank you for reading 5 articles this month* Join now for unlimited access
Enjoy your first month for just £1 / $1 / €1
*Read 5 free articles per month without a subscription
Join now for unlimited access
Try first month for just £1 / $1 / €1