Grimsby Town release a cycling jersey that is a replica of their football kit
Grimsby Town have released bib shorts, jerseys and wind jackets that mimic the club's football kit design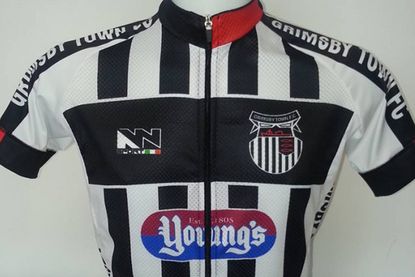 For cyclists who are fans of Grimsby Town Football Club you're in luck – you can now replicate your Mariner heroes in replicate cycling gear.
The Vanarama National League outfit, the fifth tier of English football formerly known as the Conference, have produced bib shorts, a jersey and a winter jacket, all mimcing the football shirt's black and white stripes.
Premier League AFC Bournemouth released their own cycling clothing earlier this year, but Grimsby are believed to be the first team whose cycling jersey is a replica of the football jersey's design.
They have sold out of their limited edition cycling attire, but have ordered in more to satisfy the demand.
>>> The 25 most stylist cyclists of all time
The clothing is made in Italy by NW Sport, who have a close relationship with the makers of the football clothing, Erreà.
The idea came from the club's commercial manager Dave Smith who started cycling earlier this year and is riding Land's End to John O'Groats next August to raise funds for the club's youth team.
>>> Belgium football team's new cycling-inspired away kit looks awesome
"Our kit company are close partners with NW Sport and they were happy to help. They have proved popular and Grimsby fans have expressed a lot of interest," Smith told Cycling Weekly.
>>> Lionel Messi presented with custom painted Team Sky bike
"It's a bit different had approval of Youngs our sponsors and Erreà. We've sold ten of each design and ordered some more in."
Grimsby, who were in the second tier 12 years ago, are only selling the cycling wear in their club shop at present. The bib shorts and jerseys are priced at £45 each and the wind jacket at £65.
There are plans, too, to create a winter jacket that would retail at £85 to £95 but would discard the replica football kit and instead be black, with red and white stripes featured.
Thank you for reading 5 articles this month* Join now for unlimited access
Enjoy your first month for just £1 / $1 / €1
*Read 5 free articles per month without a subscription
Join now for unlimited access
Try first month for just £1 / $1 / €1