Hutchinson blasts to National 10 win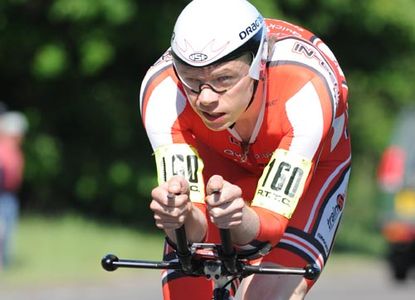 National 10 photo gallery by Andy Jones>>
Michael Hutchinson (In Gear Quickvit Trainsharp RT) was in imperious form on Sunday as he took the National 10-mile time trial title ahead of Ed Clancy (Motorpoint Marshalls Pasta) and Andy Tennant (Motorpoint Marshalls Pasta).
The fast Warwickshire course at Alcester played host to the championship action under blue skies, which saw Hutchinson scorch to an 18min 37sec time, 43 seconds ahead of Ed Clancy with Andy Tennant a further 11 seconds back.
"Ed Clancy is a very superior bike rider and it's a point when experience probably does help," said Hutchinson after his win. "He's done a lot of great rides but doesn't do an awful lot of this."
"Possibly the course played more to my strengths than his. Having the confidence to sit back and sit back until I got to the last roundabout and try and squeeze it up the last drag to the last corner and try and be 'heavy' for the last mile. It's basically down hill and you think I'd like to be 'heavy' - potential energy and all that. A whole 1960's ride 'Heavy Man!'"
"Quite a tough day out there," Hutchinson summed up.
Julia Shaw (Utag-Yamaha.com) took the Women's title earlier in the day ahead of in-form Sarah Storey (Horizon Fitness).
Shaw knew that Storey would be the rider to beat and checked out the course prior to the start.
"I went round the course on Friday and sussed out what I was going to do race wise," Shaw told Cycling Weekly.
"Basically did what I planned to do and got a time check at half way and knew I was up on Sarah [Storey] because I knew Sarah was going fantastically well and she was the one I was most worried about."
"But it's nice if you know you have a bit of a cushion - I didn't have to panic too much but obviously I rode hard to the end."
Oliver Rossi (PCA Ciclos Uno) took the junior title and Laura Trott (Welwyn Wheelers) the junior women's title.
See this week's Cycling Weekly magazine for more news from the National 10
RESULTS

National 10-mile time trial 2010

1. Michael Hutchinson (In Gear Quickvit Trainsharp RT) in 18-37
2. Ed Clancy (Motorpoint-Marshalls Pasta) in 19-20
3. Andrew Tennant (Motorpoint-Marshalls Pasta) in 19-31
4. Mark Holton (www.drag2zero.com) in 19-42
5. Matthew Bottrill (I-ride.co.uk) in 19-43
Women

1. Julia Shaw (Utag-Yamaha.com) in 20-31
2. Sarah Storey (Horizon Fitness Racing Team) in 20-58
3. Lynne Taylor (Born to Bike) in 21-52
4. Mathilde Matthijsse (Ferryhill Wheelers-Mountain High) in 21-58
5. Chrissy Radon (High Wycombe CC) in 22-09
Junior men

1. Oliver Rossi (PCA Ciclos Uno) in 20-29
Junior women

1. Laura Trott (Welwyn Wheelers) in 22-19
Related links
National 10 photo gallery by Andy Jones
Preview: Hutch starts National 10 as favourite
Thank you for reading 20 articles this month* Join now for unlimited access
Enjoy your first month for just £1 / $1 / €1
*Read 5 free articles per month without a subscription
Join now for unlimited access
Try first month for just £1 / $1 / €1