Ian Bibby: The Big Interview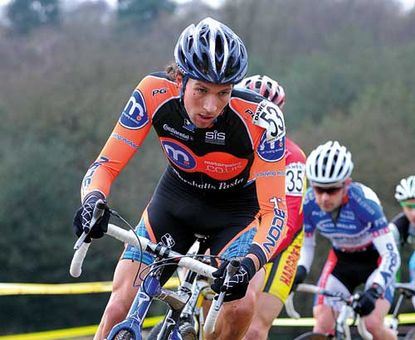 The 24-year-old former mountain biker Ian Bibby could be in the frame for Great Britain's off-road team at the London Olympics in 2012, but before he decides on his future he wants to see how far he can go on the road.
Finishing the Tour of Britain last year has given him a taste for racing on the road. Now he wants to make an impact and see which doors open for him.
CW: Did the postponement of the National Cross Championships because of bad weather help you?
IB: I'd done a few cross races going into the original date, so I felt pretty good; then I went to Majorca for a training camp to get some miles in. The weather at home got worse and flights were getting cancelled, and for a while it looked like I might not get back. I was starting to get worried, and in the end I didn't get back until the Saturday, but the race had been cancelled, anyway.
So, I came back out to Majorca for another week and did a big week, a lot of hours. On the last couple of days I did some motor pacing behind a scooter with Keith [Lambert, Team Motorpoint's manager], to get some speed in my legs. I also did a few efforts on the climbs, so I was feeling good. The combination of the miles and the speedwork really set me up.
I'd tried to get into the last National Trophy race before the Nationals but it was full up, so I just did some training on the cross bike. I've won a few national titles on that course, junior, under-23, but this was my first senior title.
I think the long rides I'd been doing gave me the edge.
You've not done a full cyclo-cross season - is that because you're concentrating on the road?
IB: For the last few years, mountain biking has been my main focus. Last year I did the first half of the season for Halfords on the mountain bike, then I did the second half of the year on the road. Usually I've not done a full cross season because I've needed to recover from a full year of mountain biking. This year I want to concentrate on the road, see how it goes, so I didn't want a full cross schedule. But next winter I want to show off the jersey.
Are you done with mountain biking? Aren't your eyes on the Great Britain team for the 2012 Olympics?
IB: There'll be no mountain bike racing at all this year because I want to see what I can do on the road. There are a lot more opportunities on the road and I want to find out what I can do, see whether I can be good at it, and to do that you have to do it properly. I'm not ruling out the mountain biking, and in 2012, I think I might be in the frame for the mountain biking but it all depends how things turn out.
What do you enjoy most?
IB: They're all different. I started out with cross and I've always loved it. I can't imagine not doing some cross. Even when I'm supposed to be resting, it's hard when the cross races start up because I want to get out there and race. I just enjoy racing a bike, to be honest, and I struggle to stay away from it.
Is that because you're a competitive beast?
IB: Yes, I love racing. I train to race. I enjoy riding my bike but it's racing that gets you fired up.
What sort of road rider do you think you are?
IB: I did the Tour of Britain for Halfords last year and I really enjoyed it, so I think the stage races might suit me quite well.
I do enjoy the crits because I like racing really hard and fast for an hour, but I'd like to see what I can do in the tough one-day races and the stage races.
Is there any similarity between a cross race and

a criterium?
IB: Definitely. Very similar. The crits are really intense, straight from the gun. I did a few Tour Series races and I loved it, especially the ones on the tighter courses where you're sprinting out of every corner. That suits me because it's what cross is like, slowing down for corners then the hard 20-second effort. You need to be technically good, otherwise you're up and down the bunch.
What road races have you got your eye on this year?
IB: It starts off steady, with some local road races at home, then there's a crit in Singapore, before the Premier Calendar starts off with the Tour of the Reservoir. We're doing the Cinturon Tour of Majorca, and later in the year the team hopes to get into the Tour of Denmark, Tour of Ireland and Tour of Britain. Other than that, the Tour Series will be a big goal.
Has your training changed in anticipation of a full

road season?
IB: This is the first time I've got a full winter in my legs. In the past I was doing a lot more cross and I never had that mileage. I had about four or five weeks off after the Tour of Britain then got back into it, building up to long rides by the end of November. By early December I was up to about 20 hours a week, then we went to Lanzarote and I got a 30-hour week in.
With the weather so bad at home, we've been lucky that we've been back and forwards to Majorca, cramming in a big week in decent weather then easing off back at home.
What has Keith Lambert been teaching you?
IB: He's always got some good advice on training and racing. I've never done motor pacing before but he got us behind the bike. I learned a lot from Rob Hayles and Keith last year. I ask a lot of questions because I know I've got a lot to learn.
Cross and mountain bike races are flat-out efforts. It's full-on concentration. In a road race, the pace is up and down and if you switch off for 30 seconds you lose 50 places and it can take ages to get back up there. It takes a bit of getting used to.
Subscribe to Cycling Weekly magazine>>
Thank you for reading 20 articles this month* Join now for unlimited access
Enjoy your first month for just £1 / $1 / €1
*Read 5 free articles per month without a subscription
Join now for unlimited access
Try first month for just £1 / $1 / €1