Irish police under fire for posting 'deliberately divisive' Twitter poll about cyclists
"Which is more dangerous: bike running a red light or car parked in cycle lane?"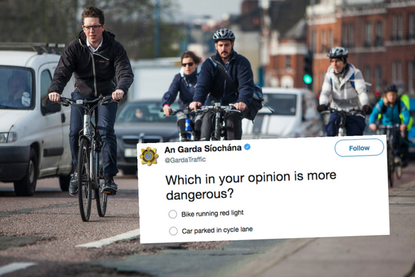 Police in Ireland have faced criticism from cycling campaigners and politicians for a poll posted on Twitter which critics say was intended to drive a divide between cyclists and motorists.
In the poll, posted from the An Garda Síochána account on Thursday, people were asked "Which in your opinion is more dangerous: Bike running a red light or car parked in cycle lane?"
At the time of writing the poll had received more than 8,500 responses, with just over half of users choosing "bike running a red light" as more dangerous.
However the poll has been criticised by both cycling campaigners and politicians, saying that it was intended to divide cyclists and motorists, and create the idea that some illegal actions are worse than others.
"Appallingly ill-conceived and deliberately divisive tweet from our national Garda Traffic Unit," said Ciaron Cannon, Minister of State for the Diaspora who has campaigned for legal protection for cyclists against close passes.
>>> Watch: Cyclists forced to ride into oncoming traffic as pared cars block cycle path in Dublin
"Both poll options are illegal, yet the person in charge of this Twitter account seems to think there is some warped merit in deciding which illegal action is more dangerous."
Green Party leader Eamonn Ryan also labelled the poll as "ill-conceived" and called on officers to "sit down with cycling organisations to consider how our traffic laws could be better designed and enforced."
>>> 'Why do cyclists ride side by side? - you asked Google and we've got the answer
The poll also drew criticism from cycling campaigners, with the Dublin Cycling Campaign saying that the timing of the tweet was particularly disappointing, coming just a day after it published a report showing a 50 per cent increase in cyclist fatalities on Irish roads in 2017.
Responding to the criticism on Twitter, the Garda account denied that there was any "us vs them involved", and said that the tweet was "trying to highlight road safety and get people talking about it" with "both options in the poll being dangerous".
Thank you for reading 20 articles this month* Join now for unlimited access
Enjoy your first month for just £1 / $1 / €1
*Read 5 free articles per month without a subscription
Join now for unlimited access
Try first month for just £1 / $1 / €1