Jens Voigt's Hour Record playlist
Would 'The Final Countdown' by Europe help you over the line?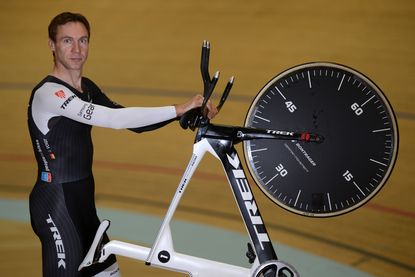 (Image credit: MAXIME SCHMID)
Ahead of tonight's Hour Record attempt at the Velodrome Suisse in Grenchen, Jens Voigt has revealed some of the tunes he'll be listening to on the big day, and during the ride itself.
Some critics — not Cycling Weekly, obviously — might suggest that getting through the playlist will be a tougher feat of endurance than the 60-minute sprint.
In a Q&A published on the Trek Factory Racing website, Voigt has revealed that the tunes that will get him in the mood include Bryan Adams' 'Summer Of 69' and Journey's 'Wheel In The Sky'.
When we're all watching Eurosport as Jens blasts off the line, he'll be listening to Republica's 'Ready To Go'. There's plenty of heavy stuff to come as the playlist includes some AC/DC, Metallica and a bit of Sabbath too.
And for the warm down? Well, why anyone would rewards themselves for such a mammoth effort by listening to 'Zombie' by The Cranberries is just baffling. But Jens is Jens — and everyone knows how much he loves a bit of suffering.
What would be on your 60-minute playlist?
More of Jens' playlist
Warmup:
REO Speedwagon "Keep On Loving You"
Bryan Adams "Summer Of 69"
Journey "Wheel In The Sky"
Air supply "Making Love Out Of Nothing At All"
Metallica "Turn The Page"
Hour Record:
Republica "Ready To Go"
P.O.D. "Feel So Alive"
Metallica "One"
AC/DC "Hells Bells"
AC/DC "Highway To Hell"
Farmerboys "Here Comes The Pain"
Ugly Kid Joe "Goddam Devil"
AC/DC "Thunderstruck"
Black Sabbath "Paranoid"
Metallica "Frayed Ends Of sanity"
Europe "Final Countdown"
Cooldown:
Metallica "Nothing Else Matters"
Cranberries "Zombie"
Kansas "Dust In The Wind"
Air Supply "All out of love"
Lita Ford/ Ozzy Osbourne "Close my eyes forever"
Jens' Playlist on Spotify
More on Jens' Hour Record
How far will Jens Voigt ride? What gear is he using? What happens if he punctures? These, and more questions,
Jens Voigt's attempt on the Hour record on Thursday has reignited interest in the iconic challenge
Tour de France winner and former record holder back the veteran German to set the new "Unified" benchmark on Thursday.
Thank you for reading 20 articles this month* Join now for unlimited access
Enjoy your first month for just £1 / $1 / €1
*Read 5 free articles per month without a subscription
Join now for unlimited access
Try first month for just £1 / $1 / €1