Jens Voigt's Hour Record attempt: Why it matters
Jens Voigt's attempt on the Hour record on Thursday has reignited interest in the iconic challenge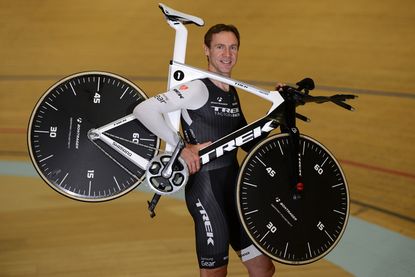 (Image credit: MAXIME SCHMID)
"Jens Voigt can beat the one hour record in under 60 minutes," reads the print along the top tube of his specially designed Hour Record bike. That's the plan, anyway. Early Thursday evening, Voigt and his bike will be lapping the Velodrome Suisse at Grenchen, Switzerland, at around 50 kilometres per hour, perhaps more, and at some point before his 60 minutes are up, when he passes Ondrej Sosenka's mark of 49.700 kilometres, he will become the new Hour Record Holder. How much further he'll ride in the allotted time, we don't know yet, but if all goes to plan, we'll be celebrating the end of an illustrious career, and, perhaps a rebirth in interest in an illustrious cycling record.
Voigt has made a career out of defying time – his career as a professional stretches back 17 seasons to 1998 (and he was a comparatively late bloomer, turning pro at 26). It's fitting that his last act as a professional athlete will be one final race against time, and against himself. He has also made a career out of ostentatiously visible suffering – either Voigt actually enjoys the agony of racing bikes or he's simply good at conquering pain.
Thursday's Hour attempt has captured the imagination of the cycling world. Voigt and his sponsors, Trek, have reignited interest in a record which was rendered dormant by a combination of bureaucratic interference and the fact that during the 1990s, a succession of riders took the record to such heights that to try to match them would be impossible.
The Hour is the blue riband record of the sport. Although technology has always made the playing field a little uneven, the record holds a special place in the history of the sport because it is a comparison across the ages. It's the only arena where Jens Voigt can race Eddy Merckx, or Miguel Indurain can race Fausto Coppi.
Its modern history has been a story of brief flurries of activity, then periods of inactivity as riders take it as far as they think they can go, before the whole process is repeated. Eddy Merckx set what many considered to be an unbeatable 49.431 kilometres in 1972. But then Francesco Moser took advantage of modern training methods and aerodynamic equipment (and, he later admitted, blood doping) and raised the record to 51.151 kilometres in 1984.
Again, the record was seen as unbeatable, before two British riders, Graeme Obree and Chris Boardman, took turns in breaking the record in the early 1990s, leading to a period of unprecedented interest in the record. Miguel Indurain, then Tony Rominger raised the record to 53, then 55 kilometres. Then Chris Boardman, using the now-banned "Superman" position (invented by Obree) rode a scarcely believable 56.375 kilometres in 1996.
In a cack-handed attempt to keep the record relevant, the UCI decided to split the record into two: the "athletes'" hour (reset to Merckx's distance, then beaten by Boardman and finally Sosenka), and Boardman's "absolute" hour. The bureaucratic manoeuvring and regulation involved in setting the rules for the "athletes'" hour was so convoluted that it effectively killed the record until recently, when the rules were finally relaxed to allow modern UCI-approved equipment. Voigt is the first athlete to attempt the Hour under the new regulations.
The Hour Record is as simple as it is brutal. The cyclist rides round the velodrome for one hour, and that is it. But it's an extremely physically arduous thing to do. It's not an even effort – the forces exerted on the riders round each bend mean that the level of effort is constantly and painfully changing. Every lap, the rider accelerates into the bends, and accelerates out, twice. This is where Voigt may have trouble – he's not an experienced track rider, and his riding style is visibly inefficient. The distance for the Hour is measured on the black line, and Voigt's wheels usually deviate significantly from the straight line when he is riding hard.
Having to hold the aerodynamic position, with no possibility of freewheeling or coasting, no descents just to take the edge off the effort, means the body starts to break down. Peter Keen, Boardman's coach, described the "cascade of pain" which descends down through the body. Voigt's appetite for pain will be tested to the limit on Thursday.
Given that Sosenka's 49.700 kilometres is seen as a relatively soft target, it's likely that Voigt will become the latest holder of cycling's blue riband record, by a healthy, but not massive distance (he'll probably ride between 50.700 and 51 kilometres). It's also likely that others will soon follow. Voigt's team-mate Fabian Cancellara has ummed and aahed about attacking the Hour, but data from the German's record will be invaluable if Cancellara does go for it.
Cancellara doesn't have the track pedigree to ride a smooth hour, but his time trialling class could see him bring the record back above 52 kilometres. Tony Martin, currently the best time triallist in the world, should consider it. Also, Bradley Wiggins and perhaps Taylor Phinney have the track racing background and experience to break the record.
But it's Voigt who has executed a coup in putting down first dibs on the revitalised Hour record. He's been a professional rider for approximately 147,000 hours. His final hour, on Thursday evening in Switzerland, shouldn't define his career, but we suspect it will be a fitting way to go out.
Edward Pickering is the author of The Race Against Time, which chronicles the Hour Record rivalry between Graeme Obree and Chris Boardman during the 1990s.
Twitter: @EdwardPickering
Tour de France winner and former record holder back the veteran German to set the new "Unified" benchmark on Thursday.
"We believe that I have a fair chance," the German says of his chances.
As ever-popular German Jens Voigt draws his 17-year career to a close, we collect some memorable images of the man
Thank you for reading 10 articles this month* Join now for unlimited access
Enjoy your first month for just £1 / $1 / €1
*Read 5 free articles per month without a subscription
Join now for unlimited access
Try first month for just £1 / $1 / €1
Edward Pickering is a writer and journalist, editor of Pro Cycling and previous deputy editor of Cycle Sport. As well as contributing to Cycling Weekly, he has also written for the likes of the New York Times. His book, The Race Against Time, saw him shortlisted for Best New Writer at the British Sports Book Awards. A self-confessed 'fair weather cyclist', Pickering also enjoys running.