Jens Voigt will break the hour record, say Bradley Wiggins and Chris Boardman
Tour de France winner and former record holder back the veteran German to set the new "Unified" benchmark on Thursday.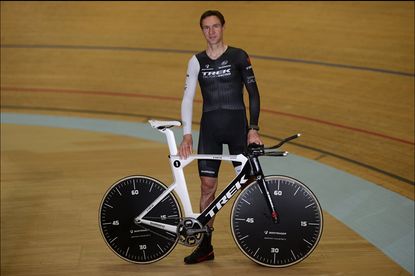 Chris Boardman and Bradley Wiggins both believe that Jens Voigt will break the hour record when he attempts the feat this week.
Voigt will attempt to beat Ondrej Sosenka's benchmark of 49.700 inside the Velodrome Suisse in Grenchen, Swizterland, at 6pm British time on Thursday.
The 42-year-old will become the first rider to attempt the hour record since the UCI set a "unified record" earlier in the year. Sosenka's record previously stood as the "athlete's hour", while Boardman's distance of 56.375km from 1996 remains the "absolute" benchmark.
And Boardman (who rode with the German at Gan and Credit Agricole between 1998 and 2000) and Wiggins both think Voigt will set the new benchmark in three days' time.
"What is the mark? 49km? He can do that," said Boardman. "It's not going to be a walk in the park, though.
"He's a big unit, Jens, and it's not his forte, but he's just a big strong lad. I think he'll do his usual thing: smash it, and then stop when somebody tells him to!"
Wiggins said: "He's going to get the record in the current set-up. It's good of him to do that as his last thing.
"I think it's good for the sport that someone's doing it. It was probably going to take someone a bit wacky to get up and go through that."
The Team Sky rider is reportedly interested in attempting the hour record, and Boardman added that, because of the nature of the event (it was broken seven times in 14 months between July 1993 and November 1994), he expects to see the likes of Wiggins and Fabian Cancellara attempting it soon.
He said: "If you look at the history of the hour record, it's always been like buses: nothing, nothing, and then three people at once.
"It's the way it goes, because somebody takes it to a level, and other people will look at it thinking it can't be beaten. There's no second place in the hour record, so it will be left for a while.
"The fact it's being done again is good. And Jens is doing what we did [in 2000, following the UCI's decision to establish the two aforementioned records], and get in there quickly!"
Thank you for reading 20 articles this month* Join now for unlimited access
Enjoy your first month for just £1 / $1 / €1
*Read 5 free articles per month without a subscription
Join now for unlimited access
Try first month for just £1 / $1 / €1