Fabian Cancellara may attempt Hour Record after World Championships
Fabian Cancellara still planning on Hour Record attempt, along with Bradley Wiggins and Tony Martin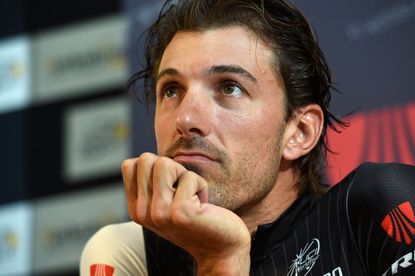 (Image credit: Graham Watson)
Bradley Wiggins, Fabian Cancellara and Tony Martin could attempt the Hour Record in the coming year. Cancellara, following a recent rule change to allow pursuit-style bikes, could try already this autumn.
"Cancellara and the team are still talking about it. We have to just decide on an exact date," team Trek's general manger, Luca Guercilena told Cycling Weekly. "We never abandoned the idea, we just need time to prepare the new equipment."
American bicycle manufacturer, Trek prepared a new pursuit-style bike for Cancellara to use, so the team only needs to select a date and a place. Guercilena would not say exactly when it would happen, but that it would come after a peak in form – either after the World Championships, the Classics or a grand tour.
"It could be after the worlds this year, after a peak in form," he continued. "You can't wait when you're ready. A road cyclist has to take advantage of the racing season to do it."
Cancellara originally had eyed the weeks after the Tour de France but was waiting on cycling's governing body to confirm the rule on the track bike. The Union Cycliste Internationale (UCI) on May 15 said that Chris Boardman's 56.375-kilometre record – along with other marks set in extreme positions – would stand. However, Ondrej Sosenka's 2005 record of 49.7 kilometres remains the number to beat.
Cyclists no longer have to make record attempts on a traditional bike in the Eddy Merckx position, but can do so on a pursuit-style bike like the ones used in track World Championships or Olympics. Trek has been preparing a traditional road bike for the hour and, after the rule change, had to start over.
"We don't have a precise date, but the new equipment is ready. Fabian's career has been great already and as a fan, not the general manager, it'd only be right for cycling that Fabian creates a new era in Hour Record attempts."
Wiggins explained that he wants to be a part of the new era. He indicated in an interview with La Gazzetta dello Sport on Monday that he would also attempt to beat the hour record. "Not this year," he said, "but I'll try next year."
Time trial world champion, Tony Martin (Omega Pharma-Quick Step) also wants to attempt.
"Now that they've changed the rules it makes it more interesting, it gets more technical," Omega Parma's development manager, Rolf Aldag said.
"It gets more interesting for our partners, but you have to do it right, you can't just expect to just jump on the bike and say, hey, I'm doing the Hour Record. It has to be a project, that project has to run more than a year. So if he wants to do it in 2015, then we should think about it soon."
Bradley Wiggins will stay on at Team Sky until 2016, but says his days of being a Grand Tour contender
UCI rule change prompts Fabian Cancellara and Trek to suspend their plans to take on the Hour Record
Changes in Hour Record rules tempt former holder Graeme Obree to consider putting in a ride
Thank you for reading 20 articles this month* Join now for unlimited access
Enjoy your first month for just £1 / $1 / €1
*Read 5 free articles per month without a subscription
Join now for unlimited access
Try first month for just £1 / $1 / €1