Jens Voigt: the man behind the Hour attempt
As the legendary rider prepares his assault on the Hour record, we reflect on what makes this cult hero so special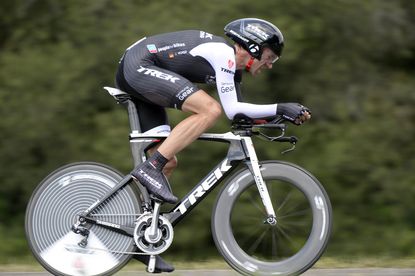 (Image credit: Graham Watson)
When Jens Voigt made his professional debut for the Australian team ZZVZ-Giant-AIS in 1997, it would have been difficult for him, or indeed anyone associated with cycling at the time, to imagine the impact he would have on the sport.
He was clearly a talented rider, having won the Peace Race as an amateur in 1994, along with other notable races at the time. Yet his legacy would be defined not only by his palmarès but by his iconic status within sport's cultural fabric, where he has become synonymous with cyclists' masochistic desire for pain and suffering.
Having completed the USA Pro Challenge, his final race as a professional, Voigt can reflect on a career that has seen a cycling club named in his honour, a line of clothing and merchandise emblazoned with his famous 'Shut up legs!' catchphrase, and nearly 200,000 followers on Twitter — where, in imitable style, he relays long-winded tales over a series of tweets.
Face of suffering
Now, at the age of 42 and after 17 years as a professional, Voigt built a reputation for relentlessly attacks.
A breakaway mainstay, Voigt won three stages of the Tour de France and worn the yellow jersey on two occasions, having started every edition since 1998, equalling the record number of Tours ridden (17) held jointly by George Hincapie and Stuart O'Grady. Over that time, he has ridden for nine different teams, most often in the service of other riders, such as Alberto Contador, Ivan Basso and the Schleck brothers.
Even in his swansong year he was characteristically prominent at the front of races, most notably on stage one of this year's Tour de France from Leeds to Harrogate. In a stage earmarked for the sprinters, his three-man breakaway was never going to stick, but he did go on to claim the polka-dot jersey and the stage's combativity award.
In a sport where the poker face of the overall contenders masks the reality of the pain they are experiencing, Voigt's open-mouthed grimace, etched across his face as he churns out a fast pace, is equalled only by the facial contortions of Thomas Voeckler.
Watching Voigt turn the screw, be it in a breakaway, time trial or at the head of the bunch, is to watch a man wrestling with his bike and his body.
He is the antithesis of souplesse. On a bike, his 6ft 3in frame is always striking, with its ungainly style, the bike moving from side-to-side in a manner that makes you wonder what Voigt could have achieved had he been able to tame his significant yet wild physical attributes. In post-race interviews, his friendly, affable nature is barely identifiable as the monster who was foaming at the mouth as he poured on the power just 15 minutes earlier.
Voigt's open acknowledgment of pain as a state of mind to be combated, repressed and ultimately overcome is perhaps part of the reason he is revered by cycling fans as the
hardman of the peloton. He is relatable, and in his suffering fans recognise a reflection of their own difficult days on the bike — and are inspired to tough it out when the rest of the body is screaming to stop.
Voigt's perspective on hard work and effort, expressed most famously in his view on breakaways — "If you go, you can either win or not win. If you don't go for it, you definitely won't win" — resonates with fans of the 'better to have tried and lost than never to have tried at all' philosophy.
With six children (and a dog named Linda), Voigt must have been tempted to sit back and allow family to take over. Instead, he's taking on the Hour Record — and cyclists all over the world are wishing him well.
Especially those who, for the first time in 17 years, can relax from having to reel him in.
Jensies' greatest hits
Liege-Bastogne-Liege, 2005
Having had a successful, yet ultimately winless Classics campaign, Voigt attacked with over 50 kilometres remaining of La Doyenne on the Côte de La Vecquée. The only rider to identify the move as dangerous was T-Mobile's Alexandre Vinokourov, who moved swiftly on to the German's wheel. As the race favourites looked around the pair quickly carved out a gap that hovered around a minute. When the chase finally found some cohesion behind them, Voigt's huge turns on the front had generated enough of a time gap to make sure they would stay away. Despite a characteristically heroic ride, Voigt would ultimately pay for his efforts when Vinokourov jumped with 200 metres remaining to claim the win.
Tour de France, Stage 13, 2006
At 231 kilometres, from Béziers to Montélimar, stage 13 was the longest of the 2006 Tour and tailor made for a breakaway. After just 21 kilometres, Voigt was allowed to get away as part of a six-man group. Despite containing other rouleurs such as Sylvain Chavanel, Manuel Quinziato and Oscar Pereiro, the break had not been identified as a real threat to the overall and the gap grew to over 20 minutes. Attacking with four kilometres remaining, Voigt succeeded in dropping all but Pereiro and when the two contested the sprint the German had just enough to claim the second Tour stage win of his career. The main bunch eventually came in a staggering 29 minutes and 58 seconds behind.
Critérium International, 2009
The Critérium International was the one race that Voigt really made his own. In 2009 he was returning as defending champion and going for a record-equalling fifth overall success. Voigt had claimed the leader's jersey on the second stage after escaping with Daniel Navarro and Jérôme Coppel, barely hanging on to win from a fast-chasing Danny Pate. On the back of this effort his directeur sportif, Kim Andersen, did not believe that his seven-second lead would be enough for Voigt to claim the title ahead of the final stage time trial. However, Voigt turned in yet another huge performance to finish fifth in the TT and claim his fifth title by just two seconds.
Tour de France, Stage 16, 2010
When Voigt's front tyre exploded on the descent of the Col de Peyresourde at the 2010 Tour, without a team car in sight, Voigt was faced with the prospect of abandoning the race. His bike was totalled, but determined to make it to Paris, he borrowed a child's bike from one of the special events cars. Bruised and bleeding, Jens rode the 15km descent on a yellow number before picking up a bike at the foot of the descent. He went on to finish inside the time limit.
More on Voigt's Hour attempt
Tour de France winner and former record holder back the veteran German to set the new "Unified" benchmark on Thursday.
"We believe that I have a fair chance," the German says of his chances.
Thank you for reading 20 articles this month* Join now for unlimited access
Enjoy your first month for just £1 / $1 / €1
*Read 5 free articles per month without a subscription
Join now for unlimited access
Try first month for just £1 / $1 / €1