Jonathan Tiernan-Locke plans comeback from biological passport suspension
Having been banned for two years following abnormalities in his biological passport after his Tour of Britain win, Jonathan Tiernan-Locke is on the comeback trail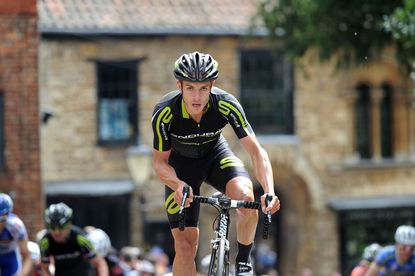 Banned former Team Sky cyclist Jonathan Tiernan-Locke has set his sights on a berth in a British domestic team for 2016 as his suspension for alleged biological passport violations comes to an end.
The Devon racer was slapped with a two-year ban after a test showed raised blood levels after his surprise Tour of Britain win in 2012, which Tiernan-Locke puts down to not rehydrating after a night out drinking in Bristol.
>>> Jonathan Tiernan-Locke isn't fully against bio passport
Speaking to the Torquay Herald Express, the 30-year-old confirmed his comeback was on and that he is confident of returning to the kind of form that attracted Team Sky to sign him for the 2013 season.
He says: "I've no doubt that I can get back to the level I was riding at in 2012. I also believe I can make myself a more complete rider than before.
"If I can do the top UK, Premier Calendar races and, say, UCI 2.2-level events, and pick up wins, that would be great.
"And I'd like to have a proper crack at the National Road Race Championships, where I've never done as well as I've wanted in the past."
>>> Jonathan Tiernan-Locke: "I have no respect for the doping sanction"
His ban resulted in his 2012 Tour of Britain title, where he beat a host of WorldTour riders to win by 18 seconds, being taken away.
"I know I won that tour fair and square – I've got the photos and I still have the jersey," he added.
"I know, and my Endura Racing teammates know, what we put into the race, and into others."
Tiernan-Locke's suspension officially comes to an end on December 31, 2015, having started on January 1, 2014.
Thank you for reading 20 articles this month* Join now for unlimited access
Enjoy your first month for just £1 / $1 / €1
*Read 5 free articles per month without a subscription
Join now for unlimited access
Try first month for just £1 / $1 / €1