Jonathan Tiernan-Locke: "I have no respect for the doping sanction"
Former Team Sky rider responds to criticism by Brian Cookson who described him as "foolish" last week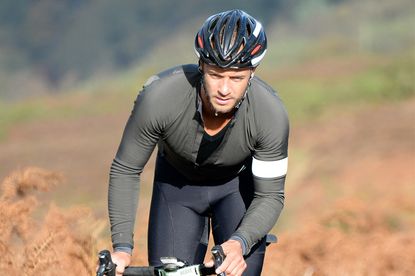 Banned British rider Jonathan Tiernan-Locke has hit back at Brian Cookson saying he "has no respect for the [doping] sanction" placed on him by the UCI, after Cookson described the former rider as "foolish" for comments he made about the governing body and it's disciplinary procedures last week.
Tiernan-Locke, who was banned from cycling for two years in July when anomalies were found in his biological passport, was appearing at the Exmoor Beast sportive when he described the UK Anti-Doping Agency (UKAD) hearing into his case as a "mickey mouse court."
He also made it clear that he will try to return to professional bike racing when his ban ends in December 2015, saying that he will take up some form of coaching in the meantime.
Cookson was scathing in his comments about the former Sky rider's attitude towards the disciplinary process, saying that he needed to "consider his situation very carefully."
The UCI president was speaking at the Tour de France route presentation when he told CyclingNews: "To hear Jonathan say things like the UKAD anti-doping hearing was a mickey mouse court, I think that's very foolish and not a wise thing to have said. I'm giving him a message that's quite clear, he's putting himself in a deeper and deeper hole."
"He has to look at the terms and conditions of his sanction," Cookson said.
"I see that he's talking about coaching again, well I'm afraid that he's banned from coaching or any event in any capacity that has anything to do with the UCI or any national federation affiliated with the UCI."
"He would be wise to accept his sanction and if he wants to return in two years, then let's see what happens."
But Tiernan-Locke, who has always maintained his innocence, has since responded by saying that he has "no faith in the governing body."
He said: "Whilst I know I can't compete, I have no respect for the sanction and won't waste my time reading the terms."
"Obviously I can't take it any further, but I now have no faith in the governing body or the process I went through.
"I will continue to be involved [in cycling] during my ban, and continue coaching and giving advice to athletes. Nobody can stop me doing that."
Earlier this year, 29-year-old Tiernan-Locke told Cycling Weekly that while the bio-passport was useful, it was being applied in the wrong way.
He maintains that the discrepancy recorded in September 2012, that saw him stripped of his Tour of Britain title, was dehydration brought on by a binge drinking session 32 hours earlier.
This explanation was subsequently rejected by UKAD in August 2014.
"I wouldn't just slag off the passport as tool" he said in September.
"I think it's useful, but I think it's being applied in the wrong way. It probably will continue to be applied in the wrong way and I'm sure it has in the past as well."
Jonathan Tiernan-Locke talks to Cycling Weekly about his doping suspension
"I'm still a young man with plenty to offer" says Jonathan Tiernan-Locke as he considers his future after doping ban
Jonathan Tiernan-Locke claims in his defence against doping case that he drank over 33 units of alcohol in one night
Thank you for reading 20 articles this month* Join now for unlimited access
Enjoy your first month for just £1 / $1 / €1
*Read 5 free articles per month without a subscription
Join now for unlimited access
Try first month for just £1 / $1 / €1