Jonathan Tiernan-Locke isn't fully against bio passport
"I wouldn't just slag off the passport as a tool, I think it's useful, but I think it's being applied in the wrong way. It probably will continue to be applied in the wrong way and I'm sure it has in the past as well." - Jonathan Tiernan-Locke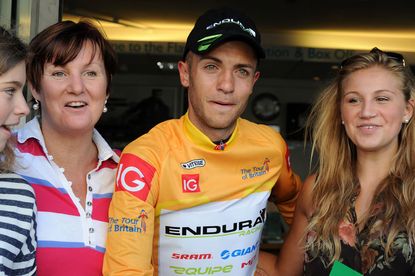 Banned British cyclist Jonathan Tiernan-Locke has a fawn Pug puppy sleeping on his lap at the conclusion of a 60-minute interview about his newly instated doping sanction and consequent Team Sky sacking.
Tiernan-Locked was handed a two-year suspension in July when a tribunal referred to his UCI Athlete Biological Passport (ABP) to conclude the 29-year-old had more likely than not used a prohibited substance or method to boost haemoglobin levels around what was a career-defining period in 2012.
The Devon local pledged his innocence first to local and then national press. Speaking to Cycling Weekly on Monday he maintained this stance asserting whilst he had witnessed a needle culture as a "naive" teenage amateur he has always been strongly against doping.
"When I first went to France, I was 19, I didn't know what level I was going in at because, coming from mountain bikes, I didn't really know anything about road racing," Tiernan-Locke said. "It turns out I was in at the highest amateur level in races, which are now considered pro amateur. They've changed all the categories but races that Continental and Pro Conti teams can now race.
"I remember thinking, 'f--king hell, this hard,' and hearing all these doping stories. I'd had quite a few guys on my team who had been suspended or were pros who had been booted out of the pro ranks or come and gone.
"If I ever had a positive test or something I couldn't live with myself, I think just for my family and everything else," he continued.
"I was quite strongly against it then obviously when I was hearing some of the attitudes of the other riders, and even some British riders, who were kind of asking to cut these guys some slack.
"More recently, it wasn't even a thing racing for British teams. It's not even talked about. You don't assume that anyone does it. No one has got the resources, the know-how, the funds, the inclination, it's all quite small-time."
Tiernan-Locke said he has never been approached about doping or seen it happening though did refer to a needle culture before the International Cycling Union (UCI) enacted a No Needle Policy in 2011.
"I was never approached about it as in like, 'hey, do you want to start doping?' But I definitely saw there was a culture of guys injecting vitamins, and they legitimately were," Tiernan-Locke revealed of his amateur years. "But I think if you talk to anyone who was involved in cycling back in the early 2000s, this is going back 2004-2005, it was just the normal thing.
"I always had a bit of a phobia of needles and anything intravenous - that was like a no go. If I have blood taken I have to be lying down as I'm probably going to faint on you. So to me that was quite disgusting really."
Tiernan-Locke's ban is based on his first ABP entry taken September 22, 2012 so six days after he won the Tour of Britain with Endura in what was a breakthrough season for the rider, who formally signed with Team Sky after the ensuing world championships in which he finished 19th in the men's road race. He has since been stripped of both results.
Tiernan-Locke in his hearing argued an anomaly in the September 22 test, which was compared against a longitudinal profile built thereafter, was due to a binge drinking session some 32 hours prior.
"I wouldn't just slag off the passport as tool, I think it's useful, but I think it's being applied in the wrong way. It probably will be continue to be applied in the wrong way and I'm sure it has in the past as well," he said.
Tiernan-Locke's case has led to questions about the due diligence Sky employed throughout the process of contract talks, which he said tentatively began around spring of 2012, and comparative to other interested parties.
He had a lacklustre season in his first year with Sky in 2013, disagreeing with its structured training programmes and wrestling with what he calls a long-standing love/hate relationship with the sport.
"I went through most of 2013 pretty much hating it. I was thinking, 'I just can't wait to get through my contract and then just quit. I f--king hate cycling.' Then other times I'd think, 'no, that's stupid.' Towards the end of the year I started enjoying it again."
Tiernan-Locke hasn't raced since September last year when news of his case broke.
Cycling Weekly magazine will run a full feature on Jonathan Tiernan-Locke in its September 11 issue.
Twitter: @SophieSmith86
"I'm still a young man with plenty to offer" says Jonathan Tiernan-Locke as he considers his future after doping ban
Jonathan Tiernan-Locke claims in his defence against doping case that he drank over 33 units of alcohol in one night
Team Sky principal Dave Brailsford defends his team's handling of Jonathan Tiernan-Locke after rider handed two year suspension by UCI
Team Sky terminates Jonathan Tiernan-Locke's contract after anti-doping suspension confirmed
Thank you for reading 20 articles this month* Join now for unlimited access
Enjoy your first month for just £1 / $1 / €1
*Read 5 free articles per month without a subscription
Join now for unlimited access
Try first month for just £1 / $1 / €1