Katie Archibald column: Why I won't be getting an Ironman tattoo
"As a child I thought an Olympic tattoo wasn't a choice but a branding that every participant was required to get"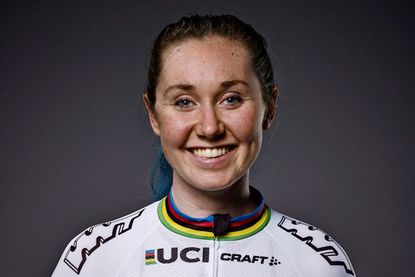 (Image credit: Nick Hill)
Olympic and world champion, Katie Archibald got into cycling after winning handicap races on a Highland Games grass track. She writes a column for Cycling Weekly each week
I have the Olympic rings tattooed on the back of my arm, just above my elbow. The placement is meant to be subtle enough that I'm not a walking advertisement, ostentatious enough that you'll notice it riding behind me. A delicate balance of pretending to be the goodie whilst actually being the arse.
If someone asks me why I had them done I respond confused. As a child I thought an Olympic tattoo wasn't a choice but a branding that every participant was required to get and feel proud of. So I've always understood that if I went to a Games it would be on my skin forever.
>>> Katie Archibald column: 'I'm not very good at riding a bike'
Even aged 20 I found it bewildering to meet Joanna Rowsell-Shand, Laura Kenny and Dani Rowe (though all with different surnames at the time) and find out there wasn't a spec of ink on any of them.
Although, confession time, the tattoo my brother and I originally dreamed of having was the Ironman triathlon tattoo. We saw it on our first holiday in Lanzarote circa 2004 and the explanation of what this odd little symbol meant completely stunned us.
Watch: The coolest custom bikes of 2017
Both chubby swimmers at the time, we couldn't fathom human beings covering such a distance (4km swim, 180km bike and 42km run) and were both left enamoured, in large part because we knew we'd never be able to complete one and earn the tattoo.
It was liking dreaming of walking on the moon — people do it, just not you or me.
The shine was taken off when we realised, actually, we probably could complete an Ironman. Much like time passing faster as you get older, distances seem shorter as you get taller. And, well, it's an open entry event. I lost almost all interest.
>>> Katie Archibald column: 'I started dating someone who owns a drill'
But the coffin holding my Ironman dream was nailed shut for good when I got deep enough into cycling culture to learn The Rules. Because, as you well know, fellow cyclist, we're all obliged to trash talk triathletes.
Just like wearing your glasses under your helmet straps or having mismatching kit, prefixing your ride with a swim and suffixing it with a run is forbidden.
I'll never get that tattoo.
Thank you for reading 20 articles this month* Join now for unlimited access
Enjoy your first month for just £1 / $1 / €1
*Read 5 free articles per month without a subscription
Join now for unlimited access
Try first month for just £1 / $1 / €1