Labour will be a 'strong voice for cyclists in Parliament' says MP
Labour shadow cabinet members join riders in Brighton during party conference for a 'Space for Cycling' ride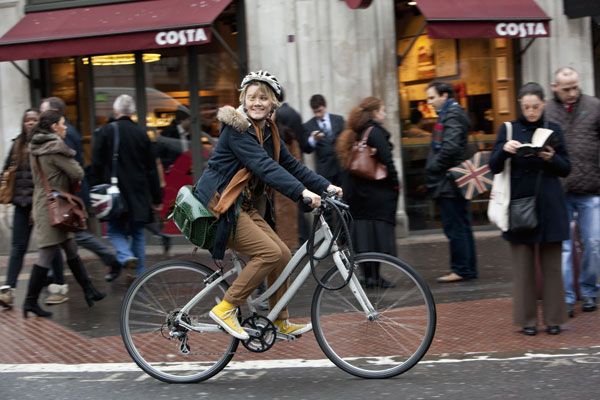 Labour MP and Shadow Secretary of State for Transport Lilian Greenwood has said that the party will be a "strong voice for cyclists in Parliament".
Greenwood and Daniel Zeichner MP, shadow minister for cycling joined members of CTC and local Brighton and Hove cycle campaign group Bricycles for a ride along Brighton seafront on Wednesday in a break during Labour's party conference in the city.
"I'm delighted to join Bricycles and CTC in Brighton," said Greenwood. "I am determined that Labour will be a strong voice for cyclists in Parliament, especially as we are approach a critical point in the Government's policy development.
>>> Newcastle leads the way in Space for Cycling support
"We will be holding Ministers to their promise to produce a meaningful Cycling and Walking Investment Strategy that sets out clear, long term funding – as well as pressing the case for restoring national safety targets.
"Campaigners have made great advances in recent years, but I know as a regular cyclist that there is still a long way to go."
CTC is campaigning for a £10-per-head commitment in the Cycling and Walking Investment Strategy to encourage more people out of motorised transport by improving facilities and infrastructure.
Watch: How to fit and remove pedals
The organisation's campaign and communications coordinator Sam Jones said: "It's great to see the new Labour Transport team coming out in support of cycling down in Brighton.
"There's cross party support in Westminster, and now more than ever we need to see all parties working together to get Britain cycling. This means the Cycling and Walking Investment Strategy must have funding of at least £10 per head, and the national design standards to ensure the money is well spent on space for cycling."
Newly-elected Labour party leader Jeremy Corbyn is a self-confessed fan of cycling, and uses a bike as his primary mode of transport around London.