Five bikes we'd recommend to Jeremy Corbyn
New Labour leader currently rides an old Trek 721 Multitrack, but in his new position of power he might want to upgrade to a new steed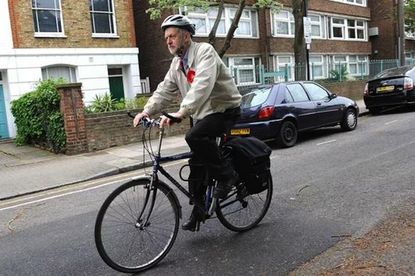 Here at Cycling Weekly we don't often dip our toes into the dark world of politics unless someone says something about cycling or does some cycling.
New Labour leader Jeremy Corbyn is often seen on the streets of London on his bike, mostly because he doesn't own a car. In fact, the leader of the opposition owns two bikes, his preferred ride of choice being a Trek 721 Multitrack.
While it boasts 21 gears and handlebars stacked incredibly high, the bike is, ironically, blue, and now he's in a position of power the normally parsimonious Corbyn may like to splash out on something costing more than £150.
Here are our five picks for his next new ride.
Fabio Aru's red Specialized S-Works Tarmac
The main selling point of this bike to Corbyn is, obviously, that it's red. Any discerning Labour leader needs to colour match - Tony Blair often wore a red tie, and while Corbyn normally seems to eschew neckware on his beige shirts he could do much worse than this distinctive bike.
A decent S-Works Tarmac retails for around £3,000, but you'd have to chuck in another £50 or so for the full red paint job, which may take it over Corbyn's strict budget.
Cannondale Prophet SL Lefty
Should Corbyn take a shine to mountain biking, he could do a lot worse than the Cannondale Lefty - a bike with only a left fork at the front.
Aligning his bike with his politics would be a master stroke for Jezza, and while there aren't many hills between his constituency in North London and Westminster, Corbyn could still shred a few corners on this beauty, or whatever mountain bikers do...
The one above is currently for sale on Gumtree, and could be his for just £660. A bargain at half the price.
Union Nostalgia
That's right. There's a bike brand from the Netherlands called Union that makes a bike called Nostalgia - perfect for Corbyn as he tries to block the Conservatives' attempted reforms of the trade unions.
It may look like a ladies' bike, but Corbyn is all about equality. Plus he'll feel right at home with its high handlebars and it even comes from a massive bell to draw attention to himself on London's dangerous roads.
A fan of the picket lines and protest marches, Corbyn surely can't resist a bit of Union Nostalgia and all for around 550 quid.
Flying Pigeon
JezCo has made no secret of his desires to nationalise various industries, including energy, and he has long campaigned against privatisation in Britain.
What he needs, then, is a proper state-built bike, and it seems that this Chinese company used to be run by the government, selling over 500 million bikes in its time.
The older models of the Flying Pigeon, like the Ford Model T, were only available in black, but the designer added a bit of flair with a strip of vanilla on the fender tips.
The company's website may not be to Corbyn's liking, with a picture of his rival David Cameron shaking hands with a chap who presumedly the owner. The organisation seems also to have modernised its designs in recent years, but Jeremy should probably stick to the traditional model.
Raleigh Militis
A bright red bike made by an iconic British brand (that's emblematic of Britain's manufacturing heyday) and ridden by a British domestic team: what's not to love?
It even comes equipped with SRAM Red, which surely would be the Corbyn groupset of choice.
Well, the fact that Raleigh is now owned by, erm, Dutch parent company Accell might not sit too well, but if one man can bring it back to the UK it's our Jez.
Thank you for reading 20 articles this month* Join now for unlimited access
Enjoy your first month for just £1 / $1 / €1
*Read 5 free articles per month without a subscription
Join now for unlimited access
Try first month for just £1 / $1 / €1