Unsafe lorry ban comes into force to protect London cyclists
Any operator using a lorry in London not fitted with safety equipment will attract a fine of up to £1000 under new rules brought into force on September 1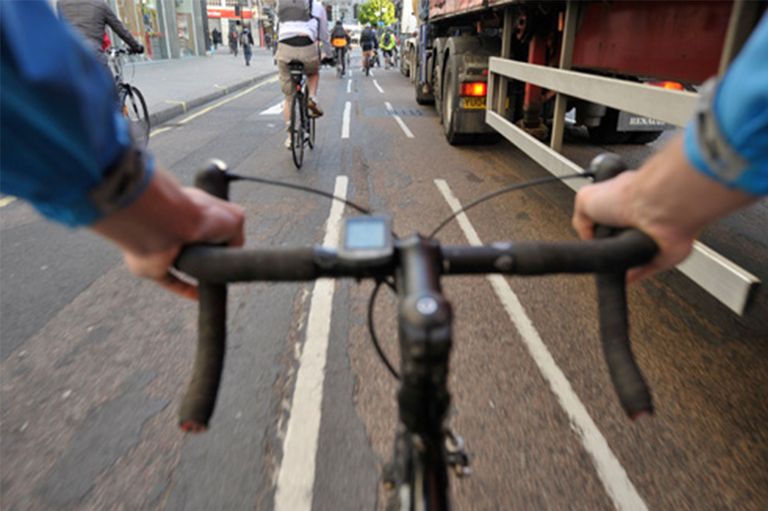 Heavy Good Vehicles over 3.5 tonnes that are not equipped with side guards and extra mirrors to protect cyclists are now banned from London's streets. Any HGV operator using a vehicle in the capital without such measures can be fined up to £1000.
The new rules were brought in after a spate of cyclists fatalities and serious injuries in London involving HGVs. Seven of the eight cyclist deaths in London during 2015 so far have involved HGVs. According to Transport for London (TfL) statistics, 53 per cent of cyclist fatalities since 2008 have involved HGVs despite them only accounting for four per cent of London's traffic.
>>> Cycling deaths could be reduced with lorry redesign
The 'safer lorry' scheme will operate for 24 hour a day, and is in force on all of London's roads apart from motorways and will be enforced by the Metropolitan Police Service, City of London Police and the Driver and Vehicle Standards Agency. Drivers of non-compliant HGVs will be given an on-the-spot fine of £50, and can also be fined up to £1000 at a Magistrate's Court. Drivers entering the 'safer lorry' zone are notified by roadside signs.
Side guards fitted to HGVs will prevent cyclists being dragged under a moving lorry, and the Class V and Class VI mirrors give HGV drivers a better view of cyclists and other road users beside the vehicle.
Mayor of London Boris Johnson said: "We are ahead of any other part of the UK in closing the legal loopholes that allowed many HGVs to operate without basic safety equipment, and I am delighted that over the 18 months since we announced the Safer Lorry Scheme the vast majority of operators have got the message and fitted safety equipment to their vehicles in anticipation of the ban.
"We have, from this morning, begun vigorous enforcement action against the laggards. A very disproportionate share of cyclist deaths and serious injuries are caused by lorries, and today's scheme will undoubtedly save lives.
"But this big step forward is only one element of my work to protect cyclists and pedestrians from lorries. I announce today that I propose to require further safety modifications to all HGVs in London, including the retrofitting of bigger side windows to further reduce the driver blind spots that contribute to so many tragic accidents."