Cycling deaths could be reduced with lorry redesign
Loughborough University publishes report into lorry-cyclist collisions, part-funded by Transport for London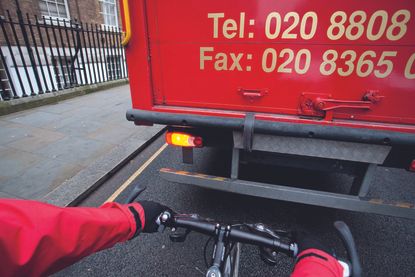 (Image credit: Daniel Gould)
Cycling deaths caused by lorries would be reduced should a report's findings pave the way for a radical redesign of large and heavy goods vehicles.
Models proposed by Loughborough University on the back of its report into cycling-lorry deaths would ensure that drivers could see cyclists more clearly and in places that are currently out of sight because of blind spots.
The models proposed are:
- An 80cm longer cab with a rounded nose
- Expanded glazed areas
- Lower driving position which would increase range of sight
- Smaller dashboard
More than half of cycling deaths in London are caused by lorries with the figure nationwide at over a third.
Partly-funded by Transport for London, the report found that of the 704 accidents involving HGVs and cyclists, 31 per cent of fatalities were due to drivers pulling away, 26 per cent at turns (19 per cent left turns, 7 per cent right turns) and 25 per cent because of drivers reversing.
William Todts, a senior policy advisor for Transport & Environment, said: "Not only drivers, but politicians too need vision. It's incomprehensible that we allow huge 36-tonne mammoths on our roads without making sure the people behind the wheel actually see what's going on.
"After decades of tinkering with mirrors, we now have an opportunity to make direct vision compulsory in new lorry designs and save hundreds of lives."
'Equivalent of six primary schools full of children' killed or injured whilst cycling or walking during 2013
£250million trolleybus scheme does 'little to improve situation for cycling and walking' says Leeds Cycling Campaign
Robert Palmer convicted of two counts of causing death by dangerous driving after killing Andrew McMenigall and Toby Wallace as
Cycling minister Robert Goodwill will close loopholes which currently allow potentially dangerous lorries to use city streets
Thank you for reading 20 articles this month* Join now for unlimited access
Enjoy your first month for just £1 / $1 / €1
*Read 5 free articles per month without a subscription
Join now for unlimited access
Try first month for just £1 / $1 / €1