Lance Armstrong invites Paul Kimmage to interview him on stage
Irish journalist Paul Kimmage declines offer from Lance Armstrong to interview him during the One Zero conference in Dublin in October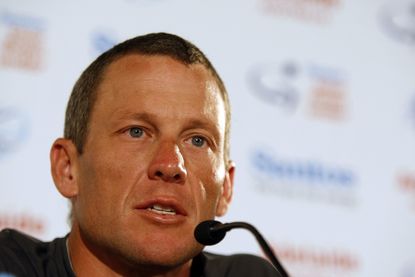 (Image credit: Yuzuru Sunada)
Lance Armstrong has issued an invite to Irish journalist Paul Kimmage – a long-standing critic of the banned American rider – to interview him on stage during a sports conference in Ireland. Kimmage has declined the offer.
Armstrong is scheduled to appear on stage at the One Zero Conference to give a 'no holds barred' on-stage interview, where he will talk about his experiences as a rider and doping during his career.
The original bill for the event has Armstrong interviewed by journalist Ewan MacKenna in Dublin on Friday, October 21, but the Texan tweeted a message to Kimmage on Wednesday asking whether he'd like to be the interviewer.
Kimmage replied saying that "you're confusing me with one of those muppets that used to dance to your tune".
Shortly after, Kimmage said that there is a possibility that he would consider sitting down and talking with Armstrong, but "not on these terms".
In a twist to the story, MacKenna appeared to be surprised that Armstrong was inviting another journalist to replace him as interviewer, but saying he would be "happy to step aside".
Kimmage dismissed that, stating that MacKenna was a "fine journalist" and that the event organiser should honour its agreement with him.
Armstrong and Kimmage famously had a heated exchange in a press conference prior to the 2009 Tour of California, when Armstrong made his return to racing after retirement.
https://www.youtube.com/watch?v=nZgns7CXeUI
Kimmage – then working for the Sunday Times – had said that "the cancer had returned" in reference to Armstrong's return to the sport. Armstrong told Kimmage that he "wasn't worth the chair he was sitting on" and that he was not sure he'd ever forgive Kimmage for making the statement.
After a lengthy US Federal Investigation into allegations of doping, Armstrong admitted in 2013 during a television interview with Oprah Winfrey to doping throughout his career and was subsequently stripped of seven Tour de France titles and banned for life.
>>> Lance Armstrong: If the court case goes the wrong way then we're out on the street
Kimmage was a former professional rider, and published a book of his experience called Rough Ride, in which he told of his brush with doping in the sport. He has since published numerous articles relating to doping in professional cycling.
The One Zero Conference takes place at at the Royal Dublin Society on Thursday October 20 and Friday October 21. In addition to Armstrong, other speakers include former England rugby union manager Sir Clive Woodward, SKINS CEO Jaimie Fuller, golfer Shane Lowry and Twitter's head of sport, Alex Trickett.
The agenda includes sporting ethics, media, technology, innovation and investment.
Thank you for reading 20 articles this month* Join now for unlimited access
Enjoy your first month for just £1 / $1 / €1
*Read 5 free articles per month without a subscription
Join now for unlimited access
Try first month for just £1 / $1 / €1