Lance Armstrong: If the court case goes the wrong way then we're out on the street
Lance Armstrong was speaking on his own podcast about the lawsuit filed by Floyd Landis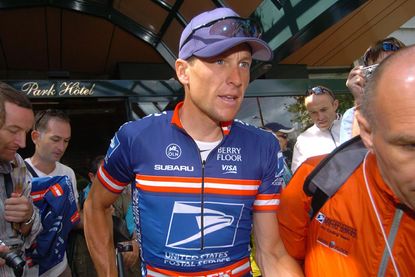 Lance Armstrong says in his own podcast with actor Ben Foster that if the judge in the US whistle blower case rules against him, then he will be "out on the street."
Former team-mate Floyd Landis filed the $100 million (£77.03m) lawsuit, showing how Armstrong and the team defrauded the Postal Service, on the behalf of the government in 2010. US District Judge Christopher Cooper is expected to decide before the close of 2016.
"I was sued left, right and centre," Armstrong told Foster, the actor who portrayed him in The Program.
"We are down to one case, me versus the United States of America, Floyd Landis – it's a heavy case. If it goes the wrong way for us, then we are on the street. So it's pretty heavy. Let's hope it doesn't go the wrong way."
The disgraced American, stripped of seven Tour de France titles for doping, said last year that he does not have $100 million to pay if he loses.
He's already lost money in sponsorship deals and lawsuits with The Sunday Times (around £1m) and SCA Promotions ($10m/£7.70m). He said that he lost $75 million (£57.77m) in sponsorship income when the US Anti-Doping Agency (USADA) ruled against him in 2012.
Landis sued under the False Claims Act, a unique whistle blower lawsuit that allows for penalties up to three-times the amount defrauded. The US Postal Service gave $31.9 million to Armstrong's team from 2001 to 2004, ESPN wrote in 2012.
The 45-year-old Texan's lifetime ban was partially lifted when part of it expired recently, which allows him to compete in all sports except cycling.
Read more on the Armstrong case
Lance Armstrong's ban has been partially lifted

Lance Armstrong asks judge to throw out $100m federal lawsuit

Lance Armstrong accused of withholding information in False Claims Act lawsuit

Lance Armstrong: It's not like we just showed up to the Tour de France and won

Lance Armstrong wins small victory as part of whistleblower suit is thrown out

He continues to ride and swim, and began his own podcast called The Forward. This week, Foster appeared as a guest.
"I made a conscious decision not to watch any of the things over they years," Armstrong said. "I didn't watch The Program, The Armstrong Lie. I knew the stories, I didn't need to watch them.
"I watched the movie out of respect of him and the listeners to research and know about it. I'm not going to tell you it was terrible. I'm not going to tell you it was 90% untrue, or maybe I will.
"The film, it was hard to watch. It was tough to watch things that never happened. I thought, this is all new to me. 90% of this...
"Watching the movie, there were two heroes, there was David Walsh and Floyd Landis. I get it, it was an adaptation of David Walsh's book. Landis being a hero is unthinkable."
>>> Floyd Landis and David Zabriskie launch new cannabis company
Foster admitted that the film was not how he wanted it to be and that Director Stephen Frears wanted a "heist film."
"What I was drawn to... The means meet the end," Foster said. "It made a lot of sense to me. You were the best cyclist to live, and you did it better than anybody. I don't think we were really successful in telling that story."
Thank you for reading 20 articles this month* Join now for unlimited access
Enjoy your first month for just £1 / $1 / €1
*Read 5 free articles per month without a subscription
Join now for unlimited access
Try first month for just £1 / $1 / €1