Lance Armstrong wins small victory as part of whistleblower suit is thrown out
Armstrong had some of the claims against him thrown out of court on Tuesday, but still faces false claims allegations relating to USPS sponsorship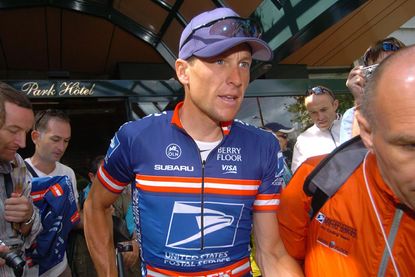 Lance Armstrong and his associates won a significant legal victory on Tuesday, when a US District judge ruled that Floyd Landis cannot pursue his claim that the sponsorship deal between United States Postal Service (USPS) and Tailwind Sports defrauded the US government.
Landis alleged that, by covering up doping practices at the USPS team, Armstrong and other parties running the team violated their contract and defrauded the government.
But US District Judge Christopher R. Cooper overturned a 2014 ruling by US Circuit Judge Robert L. Wilkins that allowed a "reverse false claims" action against Tailwind Sports - essentially, that they had illegally avoided paying money owed to the US.
Judge Cooper ruled that, even if Tailwind violated the sponsorship deal with the use of banned drugs, the contract did not create an obligation of repayment of sponsorship money separate from the government's right to sue.
In the decision, Judge Cooper said: "Tailwind owed no legal obligation to the United States at the time that any defendants allegedly made (or caused to be made) false statements to avoid repaying money received under the sponsorship agreement."
>>> Lance Armstrong hits out at hypocrisy in cycling's doping culture
Judge Cooper also dismissed some of the claims against Bill Stapleton, Armstrong's agent, Bart Knaggs, Stapleton's business partner, and Capital Sports & Entertainment (CSE), which Stapleton and Knaggs founded together.
Judge Cooper threw out reverse false claims accusations against CSE, stating: "Even if such an obligation existed, it belonged only to Tailwind, as the party to the Sponsorship Agreement," adding that Landis "has not identified a single actionable false statement by Stapleton, Knaggs, or CSE."
Judge Cooper, however, did not absolve CSE of 'direct false claims' regarding payments made to Tailwind by USPS, nor did Judge Cooper's opinion address the direct false claims allegations against Armstrong.
>>> Lance Armstrong issues two-word opinion on Boogerd's ban
Landis filed the suit against Amstrong under the False Claims Act in June 2010 and serves as a 'relator' in the case - a private party trying to help retrieve government money paid out due to false claims.
The US government joined Landis in bringing claims against Armstrong in April 2013 to attempt to retrieve money paid by the USPS in sponsorship money, roughly $40 million between 1998 and 2004.
What does this mean?
While the case is by no means over, this is good news for Armstrong and his associates, who have had the 'reverse false claims' allegations against them dismissed.
Judge Cooper ruled that the sponsorship agreement between Armstrong and USPS "created no legal obligation" for Armstrong "to repay USPS any sponsorship fees obtained as a result of materially false statements."
This could even mean that the federal government's own suit (which is separate from Landis') will be stripped of its reverse false claims counts, but the government will have the chance to appeal.
Armstrong and Tailwind Sports will still face a suit over sponsorship money paid by USPS to Tailwind, so he isn't quite out of the woods yet, but this ruling means that at least some of the counts against him have been dropped.
What is the difference between a direct false claim and a reverse false claim?
Basically, it is difference between improperly receiving money and improperly withholding money.
Direct false claims cause the federal government to pay money directly to the claimants, while reverse false claims cause the improper withholding of money the federal government is owed.
This ruling means that Armstrong did not improperly withhold money from the federal government, as he wasn't legally obliged to repay sponsorship money, even if he used banned drugs. However, the direct false claims suit continues.
What next?
It is likely that the federal government will appeal Tuesday's ruling and continue to pursue the reverse false claims against Armstrong and Tailwind, in addition to the direct false claims that are still outstanding.
Armstrong may attempt to settle with Landis out of court to avoid a lengthy legal battle but the combative Texan, emboldened by this week's victory and never one to shy away from a fight, may decide to fight the case to the bitter end.
Thank you for reading 20 articles this month* Join now for unlimited access
Enjoy your first month for just £1 / $1 / €1
*Read 5 free articles per month without a subscription
Join now for unlimited access
Try first month for just £1 / $1 / €1