Floyd Landis no longer facing prison but must repay donors who backed anti-doping stance
Floyd Landis must pay back $478,354 to donors he defrauded as he attempted to deny doping back in 2006, but will no longer face jail time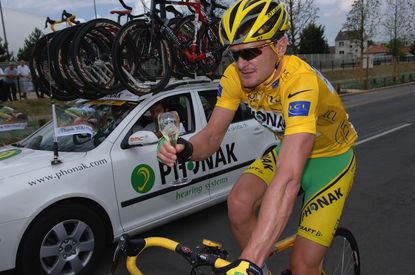 (Image credit: Watson)
Floyd Landis will not face a possible 20-year prison sentence for fraudulently accepting donations to fight the US Anti-Doping Agency's claims that he took performance enhancing drugs in 2006.
According to the San Diego Union Tribune, Landis toured the country to take part in charity rides and "town hall" meetings to raise money for the Floyd Fairness Fund while continually refuting that he doped. There was even a website set up to receive donations through PayPal.
>>> Landis fined and ordered to pay costs in UCI defamation case
While his exposure to criminal charges for the fraud was erased, Landis must continue to pay back money to donors, even though he has only managed to refund $10,000 of the $478,354 owed since 2013.
"I made it clear that the underlying restitution agreement was still in force and in effect," assistant U.S. attorney Phillip Halpern told the paper. "That's very important. Not because I care about $10,000 dribbling in every now and then, although any time you get money to victims that's good. But because he is still in line to potentially get enough money to pay back restitution in full."
The Union Tribune reports that Landis must forfeit a percentage of his post-tax income, but documents show that he was not in a position to do so in 2014 or so far in 2015.
Should Landis's, and lately the US government's, whistleblower case against Lance Armstrong succeed the former rider will be in line for a share of the $100m on the line.
"This [restitution order] will also prevent him from obtaining a windfall in any suit against Lance Armstrong without first insuring that the victims of his crime are paid off," Halpern added.
Thank you for reading 20 articles this month* Join now for unlimited access
Enjoy your first month for just £1 / $1 / €1
*Read 5 free articles per month without a subscription
Join now for unlimited access
Try first month for just £1 / $1 / €1