Lance Armstrong: It's not like we just showed up to the Tour de France and won
The disgraced former rider says he still had to put in the necessary 'building blocks' to win the Tour, but says 'high-octane' drug use was necessary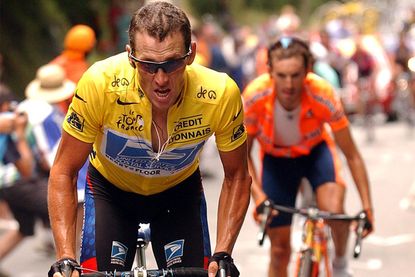 Lance Armstrong says that he truly did train hard even with the "high-octane" doping programme he used to win seven Tour de France titles. The Texan, stripped of those wins and suspended for life, spoke with university students in Colorado on Tuesday.
In 2012, the US Anti-Doping Agency (USADA) showed that Armstrong doped for most of his career. He now is facing lawsuits and paying massive settlement fees.
"You had to have all those building blocks and then, unfortunately, you had to have the last block, and the last block was high-octane doping," said Armstrong in a Daily Camera article. "That doesn't discount – it's not like we all just went to Saint-Tropez every day and sipped rosé, and then just showed up to the Tour de France and won."
Armstrong won the Tour from 1999 through 2005, titles cycling's govern body stripped after the USADA case. The USADA's worked showed he doped with EPO, testosterone, cortisone and human growth hormone, and transfused his blood.
"This era that we were in, this era of doping was so powerful," added Armstrong. "EPO in that era was not like testosterone, HGH or cortisone.
"I often refer to it as high-octane and low-octane. HGH, testosterone, cortisone... It's kind of low-octane, those are one-per-centers; EPO is a 10-per-center.
"In any sport, if you throw 10 per cent into it... You might find some success on a stage by stage basis, in a one-day race, but you won't get over the mountains and win time trials with other guys that are high-octane."
Armstrong, now 44 and with plenty of grey hair, said that the blood doping period was like a knife fight where everyone started bringing guns. He added that he believes the period is now over.
He said that he did not want to criticise the agency that took him down, but he did so while trying to make himself appear as a scapegoat.
"The organisation is absolutely necessary. It's probably the most inefficient and ineffective organisation in the world with the amount of money it has.
"It's probably the reason Travis Tygart [USADA director] and USADA needed a case, they needed something to show that they were right. And they did, and it worked, and now the world views them as truly effective, but they are really not," Armstrong continued.
"They say they had to do this, but to go back 10 to 15 years to bring a marquee case. I don't know. I don't know how John Elway would feel if they went back and stripped him of his '99 Super Bowl title.
"You might think that's crazy, but that's exactly what happened. And believe me, I was the complete dumb ass who made it totally easy for them to do this. Our era did what we did. I took it so much further. That's really the lesson for me in all of this. I was way to aggressive. They said, 'We are going to make an example out of him.' And that's what they did."
USADA offered Armstrong a chance to cooperate during its case, but he refused and fought back.
He only admitted to doping in a short Oprah Winfrey television moment after he was found guilty. Despite pleas for a smaller ban that might enable him to compete in lower-level sporting events, the man many consider cycling's biggest fraud has been shown no leniency.
"It's been a rough couple of years for a lot for reasons," Armstrong added. "It's just been a complete colossal meltdown. Let's be honest."
Thank you for reading 20 articles this month* Join now for unlimited access
Enjoy your first month for just £1 / $1 / €1
*Read 5 free articles per month without a subscription
Join now for unlimited access
Try first month for just £1 / $1 / €1