Lance Armstrong opens up to Oprah - part one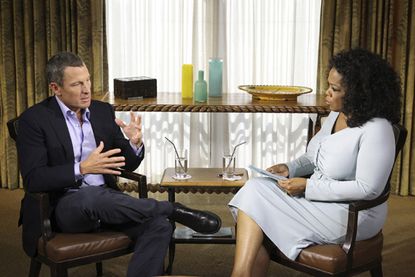 We knew it was coming, and we knew that he'd cheated. But when, on Friday January 18 2013 at 2am GMT, the Oprah Winfrey Network simultaneously broadcast Winfrey's interview with Lance Armstrong on television and on the OWN website, millions around the world stopped, listened and heard it for the first time from the horse's mouth: Lance Armstrong admitting to doping.
"So here we are in Austin, Texas. A few days ago, you texted the Associated Press and said, 'I told her to go wherever she wants.' Her meaning me. 'And I'll answer the questions directly, honestly and candidly. That's all I can say.' Those are your words," said Winfrey.
Armstrong: "Those are my words."
"When we first met, a week ago today, we agreed that there would be no holds barred, there would be no conditions on this interview, and that this would be an open field."
"I think that's best for both of us," came the almost laughed reply.
"I agree. So here we go - open field. Let's start with the questions that people around the world have been waiting for you to answer, and for now I'd just like a yes or no."
"Okay."
"Okay. This whole conversation - we have a lot of time - will be about the details. Yes or no: did you ever take banned substances to enhance your cycling performance?"
And with those words, after a Hollywood-style opening to the show, complete with breathless voiceover, reminding everyone just who Armstrong is - or was - so began American talk-show host Oprah Winfrey's interview with Lance Armstrong.
Dressed in black jeans, a light-blue shirt and a navy jacket, Armstrong looked sullen, serious - but ready. What was to come next in this - part one of an interview divided into two parts, the second part to be shown at the same time, same place, 24 hours later - must have drawn a collective breath from those watching, no matter how ready everyone was.
"Yes," he nodded.
The answer was the same when Winfrey continued with the same line of questioning: was one of those banned substances EPO? Blood doping or blood transfusions? Did you ever use any other banned substances, like testosterone, cortisone or human growth hormone? In all seven of your Tour de France victories, did you ever take banned substances or blood dope?
Yes. Yes. Yes. Yes.
Winfrey asked him whether he thought it was "humanly possible" to win seven Tours in a row without recourse to doping.
His answer was blunt, realistic, no doubt crushing for many: "Not in my opinion."
Winfrey brimmed with questions, sometimes barely able to wait for Armstrong's answers before jumping on to the next one.
Armstrong, trapped, answered everything that came his way, like someone being interviewed for a job they didn't really want.
The first sign of any real defiance only came when Winfrey quoted USADA chief Travis Tygart's words to the Texan, that Armstrong and his teams' doping programs were "the most sophisticated, professionalised and successful doping program that sport has ever seen".
"Was it?" asked Winfrey.
"No, Oprah, it wasn't," he replied. "It was definitely professional, and smart, if you can call it that, but very conservative, very risk-averse, very aware. But to say it was bigger than the Eastern German program in the 70s and 80s, that isn't true."
It was swiftly followed by more denials. Former team-mate Christian Vandevelde's assertion that he felt that the riders on the team felt compelled to dope, lest they not be selected for certain races, or, worse, even be fired, was denied as being the case - despite multiple challenges by Winfrey - although Armstrong would subsequently admit that, yes, he was a bully.
Former team soigneur Emma O'Reilly's claim that the team covered up a positive test for cortisone in 1999 by backdating a prescription for a saddle-sore was, Armstrong admitted, true.
"She [O'Reilly] is one of those people that I have to apologise to. One of these people who got run over, got bullied," said Armstrong.
Winfrey reminded him that he sued O'Reilly for her claims.
His reply demonstrated just how ruthless he was in order to shut anyone up.
"To be honest, Oprah, we sued so many people... I'm sure we did," he replied, unable to even remember who he and his entourage had tried to silence.
"It's inexcusable," he continued. "I know that there are people who will never forgive me - I understand that. All this is a process for me, and one part of that process is to speak with them directly and say, 'I'm sorry - I was wrong and you were right."
Stories were denied, and truths came out: admissions that, yes, 'Motoman' delivered doping products for the team by motorbike, that his 1999 Tour de France urine samples did indeed contain EPO when retroactively tested, and, perhaps harder to believe, that Armstrong never doped at all during his comeback to bike racing, starting in 2009.
All along it was, perhaps surprisingly, given the challenging reminders about those people who he'd intimidated and bullied, devoid of much emotion on the part of both Armstrong and Winfrey, although a 'teaser' at the end of the show about what is still to come in the early hours of Saturday morning, UK time, suggests that the tears will come when Armstrong is asked about how his cheating and dishonesty has affected his family.
Once again, the world will be watching.
Related links
Oprah Winfrey mesmerised and riveted by Armstrong interview
US government set to join Armstrong whistleblower case
Lance Armstrong confesses to doping
Thank you for reading 10 articles this month* Join now for unlimited access
Enjoy your first month for just £1 / $1 / €1
*Read 5 free articles per month without a subscription
Join now for unlimited access
Try first month for just £1 / $1 / €1
Founded in 1891, Cycling Weekly and its team of expert journalists brings cyclists in-depth reviews, extensive coverage of both professional and domestic racing, as well as fitness advice and 'brew a cuppa and put your feet up' features. Cycling Weekly serves its audience across a range of platforms, from good old-fashioned print to online journalism, and video.