Floyd Landis and David Zabriskie launch new cannabis company
Ex-professional racers Floyd Landis and David Zabriskie both served suspensions for doping, now they are selling dope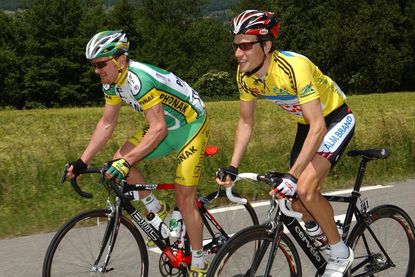 (Image credit: Watson)
American former professional racers Floyd Landis and David Zabriskie have joined forces to launch a new company that sells cannabis-based products.
Both riders were part of Lance Armstrong's US Postal team, and were embroiled in the doping scandal that saw Armstrong finally admit to doping throughout his career and be stripped of seven Tour de France wins. Landis was the original whistleblower in the case.
Floyd's of Leadville will officially launch on Thursday in Denver, Colorado. According to the company, it uses pharmacy-grade marijuana in vapour cartridges and topical creams to give "a discrete, accurate and reliable system for enjoying the premium cannabis experience specifically optimised for maximum entourage effect."
The Floyd's of Leadville website opens with: "In a time when the debate about what's right and what's wrong, what's legal and what's banned rages on, some things are clearing up, namely which brand you should choose when considering your next mood/performance enhancing product."
In the USA, 23 states currently allow the use of cannabis for medical purposes.
>>> Lance Armstrong wins small victory as part of whistleblower suit is thrown out
Landis said in a press statement that he uses cannabis products to ease the pain in his hip, which he had replaced in 2006. Zabriskie – who acts as creative director for the company – also uses cannabis to relieve pain from crash injuries.
"I am really excited about this new phase of my life," said Landis. "The cannabis industry is growing fast and I am fortunate to have this opportunity to play a role.
"The therapeutic uses for cannabis can't be ignored. For years I relied on opioid pain relievers to treat my hip pain. With cannabis, I find that I can manage my pain and have a better quality of life. We need to give people a safer alternative."
Watch: Tour de France 2016 - the contenders
Zabriskie has previously found success with his DZ Nuts chamois cream company. He was suspended for six months after admitting to doping during the USADA investigation into US Postal.
Landis was stripped of the 2006 Tour de France victory after testing failing an anti-doping test for testosterone. He originally denied that he had doped, but in 2010, Landis admitted to doping throughout his career.
Landis is reportedly going to visit the Tour de France this July.
Thank you for reading 5 articles this month* Join now for unlimited access
Enjoy your first month for just £1 / $1 / €1
*Read 5 free articles per month without a subscription
Join now for unlimited access
Try first month for just £1 / $1 / €1