Armstrong under fire as Landis allegations reach mainstream America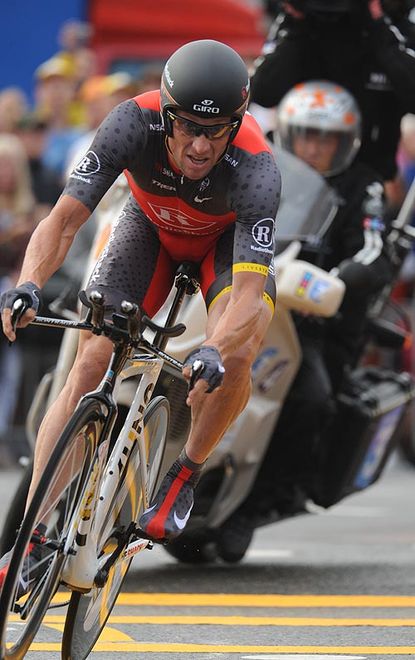 Mainstream America woke up to a very different story about Lance Armstrong yesterday.
The Wall Street Journal published an article headlined Blood Brothers, after conducting an extensive interview with Floyd Landis.
Landis admitted doping and levelled allegations at Johan Bruyneel and Lance Armstrong in May when emails he had sent to the cycling authorities were leaked onto the internet. He has since been co-operating with the Food and Drug Agency as government agent Jeff Novitsky seeks to investigate allegations of doping at the US Postal Service team.
The Wall Street Journal article is a tale of clandestine blood transfusions and allegations of systematic doping.
Those who have been following cycling on a day-by-day basis may have been underwhelmed by the allegations in the article. Anyone who has taken a look at the wild west that is the online forum community will have heard similar stuff for years. They may be tempted to say it's all been denied before and nothing has ever come of it, so what's new?
However, the Wall Street Journal article is hugely significant for two reasons.
Firstly, it is a credible, mainstream newspaper that people read over their breakfast cereal and coffee - not an internet forum where the wild conspiracies have to be sorted from the grains of truth. Secondly, the article provided a level of detail we have not seen before, certainly not in print. The article gives a date and a place. It says that on July 12, 2004, the Tour de France rest day, Johan Bruyneel organised blood transfusions for Landis, Armstrong, George Hincapie and Jose Luis Rubiera. It says that Lance Armstrong doped during that Tour.
Cynicism about the role the media plays in stories like this is understandable. But the Wall Street Journal is not some rag-bag tabloid. It is a serious paper and its editors must feel they are sure of their facts to publish such a direct accusation.
Perhaps Armstrong or Bruyneel will sue the newspaper, although Armstrong seems to be more concerned with attacking Landis, comparing him to a carton of sour milk in the statement.
On the face of it, that has to be seen as the weakest of denials. Armstrong has been directly accused of cheating in an article published in a mainstream newspaper that has to adhere to the libel law. What does Armstrong do? Pour scorn on his accuser and resort to name-calling rather than robustly challenge the media organisation to produce its evidence and stand up for every word.
WHAT HAPPENS NOW?
The UCI will, presumably, sit on its hands. Darach McQuaid, the brother of the UCI president Pat McQuaid, said on his Twitter page yesterday: "I've read WSJ article twice now, and still I wonder what concrete evidence is there 2 justify a paper of such reputation to go 4 this story."
Of course Darach McQuaid cannot - and is not - speaking on behalf of either his brother or the world governing body, but it is another demonstration that the UCI's president is too close to Bruyneel and Armstrong.
One has to wonder what set of circumstances will force the UCI to shine a spotlight on the past conduct of Bruyneel and Armstrong.
ASO, the organiser of the Tour de France, is barely independent. It has allowed itself to be compromised too. Anyone who has been in Rotterdam in the run-up to the prologue will see how intertwined the Tour de France has become with Livestrong.
There are Livestrong tents selling T-shirts (made by Nike) and wristbands. Livestrong has people roaming among the crowd selling wristbands. And Livestrong vehicles are a part of the Tour's publicity caravan.
While it is laudable that the Tour de France should allow a charitable organisation to publicise itself at the race, does it have to be this particular charity? There needs to be openness lest people come to think that the Livestrong brand's presence at the Tour is a giant yellow security blanket for Armstrong.
The Tour needs to be transparent in this respect too. As does Nike. People who are purchasing these products - identifying the Livestrong name with the cancer charity effort - should be told, up front, what percentage of each sale goes to the charity.
AN AMERICAN CONSPIRACY?
In 2005, when L'Equipe pieced together the jigsaw of the 1999 urine samples and declared that Armstrong had used EPO its story was headlined Le Mensonge Armstrong - The Armstrong Lie.
Now the Wall Street Journal has published allegations that give specific information about how and when Armstrong and some of his team-mates apparently doped.
On Friday, the day before publication, a rumour spread across the internet that Armstrong's lawyers had tried to take out an injunction to prevent the article being published. That, we understand, was not true. There was no injunction.
There was no repeat of the Festina Affair or the Operacion Puerto scandal yesterday. There was only a smattering of journalists at Radioshack's hotel on Sunday morning, a few hours after the story broke.
Armstrong's most defiant fans will point to his fourth place in the prologue as a demonstration that there's nothing in this story.
But others believe this story is a juggernaut that is only just getting up to speed.
Tour de France 2010: Latest news
Armstrong under fire as Landis allegations reach mainstream
Team Sky's decision to put Wiggins off early back fires
Millar and Thomas hold their nerve in Rotterdam rain
Armstrong defiant in wake of latest revelations
Thomas looks to prologue and sporting new stripes|
Florencio kicked out of Cervelo team on eve of Tour
Tour teams presented in Rotterdam: What the riders said
Andy Schleck faces rough ride over Tour cobbles
Riis: Tour is the goal for Schlecks despite sponsor problems
Armstrong on Arenberg: There will be carnage
Cavendish set for green jersey battle at the Tour
Hunt and Lloyd look forward to making their Tour debuts
Tour de France 2010: Stage reports
Prologue: Cancellara pips Martin to win
Tour de France 2010: Photos
Prologue photo gallery
Tour de France 2010: Race guide
Tour de France 2010: Cycling Weekly's coverage index
Official start list, with race numbers
Brits at the Tour 2010
Tout team guide
Tour jerseys: What they are and what they mean
Brits in the Tours: From Robinson to Wiggins
Tour de France 2010: Pictures
Tour team presentation, Rotterdam
Tour teams take to the cobbles: Photo special
Thank you for reading 20 articles this month* Join now for unlimited access
Enjoy your first month for just £1 / $1 / €1
*Read 5 free articles per month without a subscription
Join now for unlimited access
Try first month for just £1 / $1 / €1