Laura Trott dismisses talk of rivalry with Lizzie Armitstead ahead of title defence
Laura Trott says Lizzie Armitstead will not make the same mistakes on Sunday as she did in the 2014 National Championships road race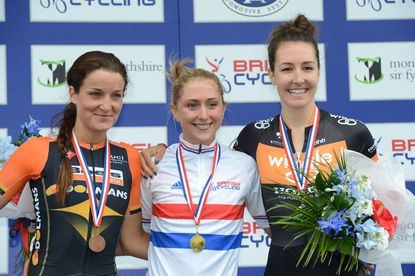 (Image credit: Andy Jones)
Defending champion Laura Trott believes Lizzie Armitstead is likely her biggest challenger if she wants to retain her national title on Sunday in Lincoln, but played down speculation of a rivalry between the pair.
Trott took the win last year when Abergavenny hosted the National Championships road race, beating former Wiggle-Honda teammate Dani King and Armitstead on the line.
But with Armitstead's form so far this season, Trott believes the Olympic silver medalist will be favourite for Sunday's race, despite her crash at the Women's Tour last week.
"Lizzie is absolutely flying right now but she is always flying," Trott told the Wharfedale Observer.
"I think last year she actually just got a bit caught out and there were a lot of people that wanted to work against her as it were, she didn't have any team-mates, and that sort of worked to my advantage.
"Whereas this year I don't think she will make the same mistake and she will learn from last year.
"People think there is a massive rivalry between us but I like to see the girls I used to train with and grew up with doing well and she won a World Cup recently and she is ranked number one in the world, which is phenomenal."
Armitstead and Trott head a field packed with domestic talent in Sunday's race, with fellow Olympic medalists King and Joanna Rowsell also in the lineup.
Dani King shows us her scars
Thank you for reading 20 articles this month* Join now for unlimited access
Enjoy your first month for just £1 / $1 / €1
*Read 5 free articles per month without a subscription
Join now for unlimited access
Try first month for just £1 / $1 / €1