Leaders Motorpoint to take to the offensive in Tour Series decider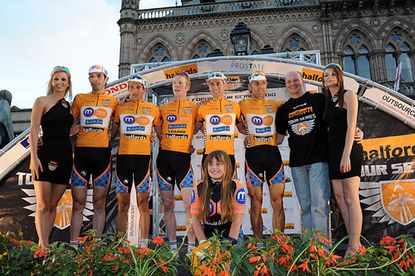 LEADERS MOTORPOINT TO TAKE TO THE OFFENSIVE IN TOUR SERIES DECIDER
After nine frenetic and hard-fought Tour Series races across the country, the circuit race competition goes down to the wire in Woking tomorrow night.
Leaders Motorpoint-Marshalls Pasta and challengers Endura are separated by just two points, with Rapha-Condor-Sharp six behind.
Motorpoint team manager Keith Lambert was adamant that they would not be riding defensively. "We need to go out and win it. If you start sitting out to defend it, thinking of the many different permutations, you will lose it."
The competition is indeed finely perched. "If Endura win and we're third, we lose it; if they're second and we're fourth, we win it," Lambert explained.
"We were positive in Stoke and the other night [in Chester], but we certainly can't allow Endura to go up the road again, that would be fatal," he said, referring to the Scottish-registered team's 1-2-3.
"It's difficult to predict, everyone without exception has had their ups and downs - it's just who gets it right on the night" Lambert added.
With Jonny McEvoy sidelined due to throat problems, the competition leaders are missing one of their in-form riders.
"It's a very difficult course, the hardest apart from Durham. There won't be a lucky winner tomorrow night. We'll go into it with positive thoughts and a bit of confidence, without being complacent."
"I just hope we have a good day because there's no coming back after this one," he concluded.
Racing starts in Woking city centre at 7pm tomorrow night.
The Halfords Tour Series Standings (after nine rounds)

1) Motorpoint Marshalls Pasta 79pts
2) Endura Racing 77pts
3) Rapha Condor Sharp 73pts
4) Sigma Sport Specialized 53pts
5) Pendragon Le Col Colnago 52pts
6) Team Raleigh 49pts
7) CyclePremier.com Metaltek 43pts
8) Team Corley Cycles 33pts
9) Kuota road.cc 25pts
10) Team Ireland 8pts
Motorpoint in the leader's jerseys earlier in the Tour Series


MATT JONES FLYING IN FRANCE

COC Fougeres rider Matt Jones has hit a purple patch while racing in Brittany, claiming four wins in respective races in Plumelin, Rennes, Saint-Malo and Cuillé over the past six weeks.
Of his victory in the Breton capital Rennes from a 120-strong field, the 20-year-old said: "An hour in, after one of the many primes, I escaped with another rider - who turned out to be a motorbike."
With the peloton eventually giving up the chase, Jones resisted a late attack 1500m from the finish and pipped his rival in the sprint. "He led out the sprint like I expected and I just nipped past him in the last 20 metres. Result - and one massive trophy," he said.
Recently featured in CW's Brits Abroad franchise, Jones, in his second year racing in Brittany, now has five wins to his name this year, along with a podium finish and several top tens.


RYEDALE RUMBLE NEEDS YOUR ENTRIES TO SURVIVE
One of the most popular sportives of recent years, the Ryedale Rumble is in need of entries to break even after a difficult start to 2010. Traditionally launched at the beginning of January, the event couldn't go live for online entries until nearly four months later.
"First we had to sort out the routes, which after the harsh winter needed to be re-assessed," explained organiser Bob Howden. "Fortunately the only change needed was right outside of the HQ, where a landslip has caused the road to be closed. The Event HQ itself has moved across the campus from the Preparatory School at Gilling Castle to the main Ampleforth Abbey and College site."
"Then, to cap it all off, we became bogged down with IT problems at our online entry host. That meant a late shift and it was the end of March before we could launch."
All of this means that the event is well behind its normal programme for this stage and could be jeopardised if things don't improve.
"We need another 250 entries to break even," said Howden. "If we can get close to that figure with one month to go then we'll run with it. The proceeds of the event significantly go towards our British Cycling Yorkshire Regional Youth Development Programme. This helped to establish the White Rose Youth League. We can just about handle a break even year but a loss would severely dent our wider plans for Youth Development."
Organised by the BC Yorkshire team behind the Ryedale Grand Prix Premier Calendar race, the Ryedale Rumble extends out from the Howardian Hills across the loftier contours of the North York Moors, resplendent in their August coat of purple heather.
The Moors hold a unique place on the cycling map with quiet roads and monumental climbs. The longest of the three routes takes in Boltby Bank, Blakey Bank, Caper Hill and the legendary Rosedale Chimney Bank with a starting hairpin and gradient of 1 in 3.
The other two routes lose miles and some of the climbs but at 71.1 and 48.6 miles still pose a serious challenge.
For further details and to enter, visit www.ryedalerumble.co.uk.
NEW SPORTIVE TO RAISE FUNDS FOR ARMED SERVICES

Wheels in Wheels Ltd. have unveiled a new sportive, the Pain on the Plain, which aims to raise funds for official Armed Services charity SSAFA Forces Help (www.ssafa.org.uk).
Starting in the Wiltshire town of Tidworth, there is a 60 or 90 mile route, encompassing some of the best roads around Salisbury Plain.
Moreover, some exclusive military roads will also be used alongside public highways - indeed, the official route will be announced a week before the event, so that no over-zealous sportiviste sneaks onto military land to pre-ride the course.
The Combined Services will be using it as part of their own sportive series, pitching soldiers, sailors and airmen against one another.
The long ride starts at 8am, the shorter at 8.45. Signage, full chip time and feeds can be expected on the route.
All proceeds from the event go to the SSAFA (Soldiers, Sailors, Airmen and Families Association).
To enter or for more information on the Pain on the Plain, visit www.wheelsinwheels.com.
Thank you for reading 20 articles this month* Join now for unlimited access
Enjoy your first month for just £1 / $1 / €1
*Read 5 free articles per month without a subscription
Join now for unlimited access
Try first month for just £1 / $1 / €1