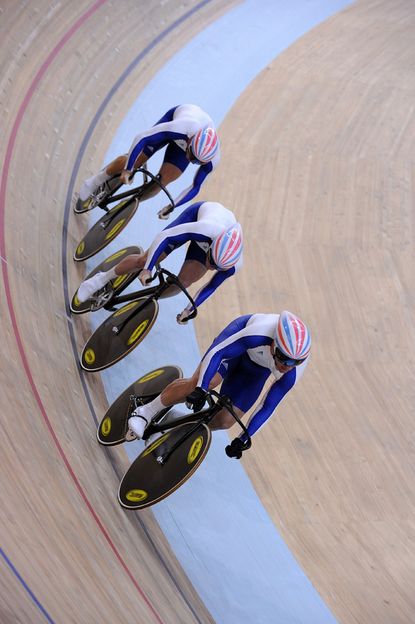 Laoshan velodrome may have a large number of empty ringside seats as the curtain rises on day, but what it lacks in spectators it makes up with deafening noise.
As day two starts up, Cycling Weekly is gradually getting used ot life in a Chinese velodrome - although our ears may take a bit longer.
The noise levels on the p.a. system are seriously, seriously loud. It?s all right when it?s live commentary, but the music between events dins into the skull. Five hours of this and we?ll be missing all those trash metal concerts we somehow never managed to get tickets for.
Talking of tickets, it looks more than bizarre to see empty seats at an Olympic event like this one, but that?s how it is when the racing starts. Only at the end of the individual pursuit classifications does Laoshan begin to really fill up.
There are some noisy Dutch fans in one corner, a big contingent of Brits in another (the British riders are getting the biggest cheers) and on Friday a group of French supporters made some determined attempts to sing the Marseillaise just before the medal ceremony, but most curious surely is a man sitting wearing a poncho - next to a huge Italian flag.
British Cycling are helping make up for this lack of numbers slightly - they?ve got one of their performance analysts up in the ?crowd?, filming everything. They shouldn?t have too many problems seeing their own team - they?ve got one of the bigger pits on offer.
Fans are not there in huge amounts, but the English speaking media pack is growing by the day. British officials are doing their best to cope - and Shane Sutton came up with one solution yesterday. He ducked round the barriers and came to talk to the assembled hacks on ?our? side of the fence.
When the press go looking for sustenance, we?ve discovered the delights of a new kind of biscuits in the press room: shallot-flavoured. It?s that or triangles of funny pizza or strange-lookiing hot dogs from here on in.
Inside a velodrome, meanwhile, you do lose all sense of time, but the last time we looked it is getting ominously cloudy. Strange but true, if there is a thunderstorm tonight we may be looking at higher speeds in Laoshan.
?The ideal thing for high speeds is just before a thunderstorm because the humidity is really high. It can make the difference of a tenth of a second.? British cycling coach Scott Garder told cycling.
Of the factors that can change speed in a velodrome. ?Humidity makes less of a difference than temperature or pressure. Humidity changes the pressure the least. Higher temperatures and low pressure together with high humidity make for the fastest conditions.?
(So if the Brits go like greased lightning tonight, now you know why. Ok, that?s enough rubbish jokes, time for the racing.)
Thank you for reading 20 articles this month* Join now for unlimited access
Enjoy your first month for just £1 / $1 / €1
*Read 5 free articles per month without a subscription
Join now for unlimited access
Try first month for just £1 / $1 / €1