London bike shop 'fined by council for providing free pump' outside premises
Isambard's Cycles in London says it is being fined by Tower Hamlets Council for placing a track pump outside its front door for free use by cyclists - Council says shop has not been fined, but asked to apply for a licence for range of items causing obstruction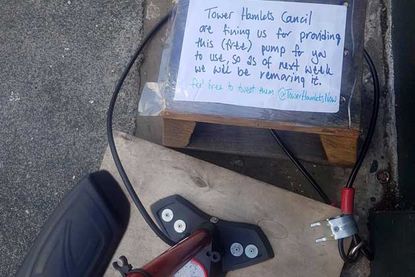 (Image credit: Isambard's Cycles/Twitter)
A London bike shop says that it has been 'fined' by its local council for installing a track pump outside its front door for free use by cyclists.
Isambard's Cycles on Brick Lane report that they have been fined by Tower Hamlets Council for 'obstruction of the highway' after placing the red track pump on the pavement.
The track pump is on a small wooden board, and secured to the premises using a cable lock. The independent shop's owners Sarah Breese and Tim James have left a hand-written note on the pump saying that it will be removed next week.
>>> Australian cyclists targetted by vandal pouring oil over cycle path
"Tower Hamlets Council are fining us for providing this (free) pump for you to use, so as of next week we will be removing it," read the sign. "Feel free to tweet them at @TowerHamletsNow".
A statement issued by the council on Monday said that the shop had not been fined solely for the pump, but for other items on the pavement.
"Isambard's Cycles has not been fined for having a 'free foot pump'. We visited the shop on 16 July to tell them that they need to apply for a licence to have items on the footpath outside their shop including bicycles for sale and a bench. This was followed up with a letter.
>>> What exactly makes a good bike shop?
"The area outside the shop is narrow and it is already difficult to get a pram or a wheelchair past the shop, without these items being displayed.
"A week later they had still not applied for a licence so we issued a fine for having items on the highway. We then visited again last weekend and they still had not applied for a licence.
"We will visit the shop for a fourth time this week to offer help in applying for a licence and, if they do, we can review the latest fine."
Tower Hamlets Council were recently in the news after their operatives fined a five-year-old girl £150 for setting up a table selling homemade lemonade to members of the public walking to a music festival. The council later retracted the fine and apologised.
Thank you for reading 20 articles this month* Join now for unlimited access
Enjoy your first month for just £1 / $1 / €1
*Read 5 free articles per month without a subscription
Join now for unlimited access
Try first month for just £1 / $1 / €1