Mystery man who installed unofficial no cycling signs is a 'keen cyclist'
Local resident who put up his own 'no cycling' signs on a path that can be used by cyclists in St Andrews says he did so over safety concerns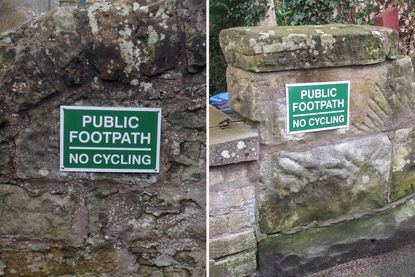 (Image credit: Brian Thomson/Chris Wallard)
A man who installed unofficial 'no cycling' signs on a path in St Andrews, Scotland, has said he did so in response to safety concerns, and says that he is certainly not anti-cycling.
The green signs bearing the wording 'Public footpath - no cycling' appeared on the Lade Braes path from Bridge Street to Hepburn Gardens in St Andrews last week.
Initially their appearance caused confusion and controversy, with Fife Council saying that the signs on the path were not sanctioned by them, and were also inaccurate as cycling is permitted on the route. The council has said that it will remove the signs.
>>> Mysterious fake 'no cycling' signs to be removed by council
The mystery of who installed the signs has now been solved, as local resident David Middleton has said he put them outside his property up after a neighbour was hit by a cyclist on the path.
Speaking to the Courier newspaper, Middleton said: "All my neighbours are elderly and are really anxious about stepping on to Lade Braes because students in particular use it as a rat run."
Middleton said that he is certainly not anti-cycling, and said that he is a 'keen and active cyclist'.
According to Middleton, he contacted Fife Council to enquire whether cycling was allowed on the path last year, and was told that it was not permitted, leading to the confusion. Now, Middleton wants to see a clearer cycling strategy and infrastructure put in place in St Andrews to improve safety for everyone.
"I think that the most constructive way to encourage safe cycling in St Andrews is for the council to increase the number of dedicated cycle paths throughout the town rather than promote situations where cyclists come into conflict with pedestrians," he said.
Local cycling action group St Andrews Space for Cycling held its first public meeting on March 16 with the aim to make the town 'the most cycle friendly town in Scotland'.
Thank you for reading 5 articles this month* Join now for unlimited access
Enjoy your first month for just £1 / $1 / €1
*Read 5 free articles per month without a subscription
Join now for unlimited access
Try first month for just £1 / $1 / €1