MARTIN JOINS SLIPSTREAM - FOR ROCK CLIMBING AND CAKE DECORATING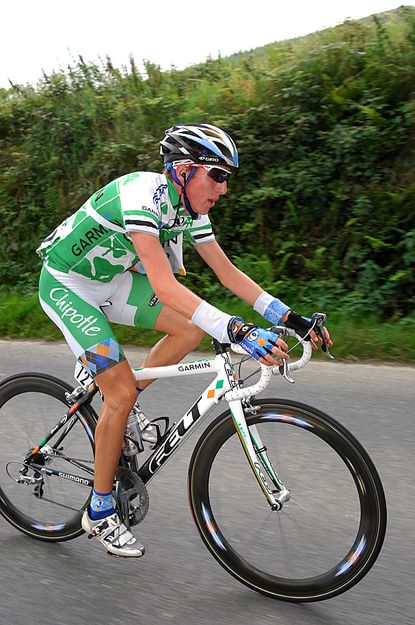 Daniel Martin flies to Denver, Colorado, on Wednesday (November 7) to meet up with his new Slipstream squad for the first time. It will be the 21-year-old?s first trip to the United States and he can?t wait ? even if the team-building exercises on the agenda include rock climbing and cake decorating.
He doesn?t even mind wearing Argyle.
?It?s coming back in, I?m telling you,? he says with a slight Birmingham accent, worn at the edges by three years living near Marseille. ?We?re going to be trend-setters. I must admit I am getting fed up with people saying ?Oh no, you?ve got to wear Argyle?. I like it, and it?s a talking point. And you see more and more of it in the shops, so it?s coming back.?
The ten-day trip is not a traditional training camp. There will be some riding from the team?s base in Boulder, but the aim of the get-together is to emboss the team?s ethos on the riders, as well as set race programmes and talk about what they want to achieve in 2008.
For example, there will be a talk from the UCI?s head of anti-doping, Anne Gripper ? but the most eye-catching events are a morning on the rock-climbing wall at a gym and either a chilli cook-off or cake-decorating competition.
?It?s definitely off-season if cakes are involved,? says Martin. ?I hope we do that because I can?t stand spicy stuff. I?m really competitive so I?d definitely give it everything. I?m okay in the kitchen ? I?ve lived by myself for three years and I can do all the quick and easy stuff. Cakes I?m not so sure about.?
Although Martin was British junior champion on the road in 2004, he took an Irish racing licence to give him a kick-start on the road. ?At the time you had to do track if you wanted to get anywhere with the British federation. I needed to ride the Worlds and things so I went with Ireland.
And with good reason. His uncle on his mother?s side is Stephen Roche, the former Tour de France, Giro d?Italia and world champion. Mind you, he also has cycling in his genes ? his father Neil was a respected British pro in the 1980s after being national amateur champion in 1984.
?It helps a bit being Irish in France and already in America they are looking forward to taking the mickey out an Irish accent ? well, hey boys, you?re going to be disappointed,? he jokes.
Having come to the attention of Jonny Weltz, the former Tour stage winner who is one of Slipstream?s team managers, just over a year ago, Jonathan Vaughters has kept close tabs on Martin.
Describing himself as a pure climber, he impressed in the colours of VC La Pomme in Marseille, and he can?t wait to see how he fares in the pro ranks. ?It would be a great start if I were to get into a mountainous race like the Tour of Catalonia or Dauphine Libéré this year to see how I get on.?
After Colorada, he will relocate to Girona in Spain, to be with the rest of the Slipstream squad. ?The training is meant to be awesome and there?ll always be someone there to go out with. Having said that, I?ve been through the lonely stage and I?m pretty self-sufficient.
?I?m just looking forward to it. I?ve been in the results week-in, week-out in the amateurs, now I want to step up and see if I can handle it. I know Jonathan is ambitious but I am just as ambitious.?
PICTURE: Daniel Martin in his VC La Pomme colours. by Andy Jones
RELATED LINKS
Tour 2008: The world awaits
Team Slipstream announce 2008 roster
Grapevine: Is Slipstream?s Tour spot in the bag?
The Big Interview: Jonathan Vaughters
Thank you for reading 10 articles this month* Join now for unlimited access
Enjoy your first month for just £1 / $1 / €1
*Read 5 free articles per month without a subscription
Join now for unlimited access
Try first month for just £1 / $1 / €1
Sports journalist Lionel Birnie has written professionally for Sunday Times, Procycling and of course Cycling Weekly. He is also an author, publisher, and co-founder of The Cycling Podcast. His first experience covering the Tour de France came in 1999, and he has presented The Cycling Podcast with Richard Moore and Daniel Friebe since 2013. He founded Peloton Publishing in 2010 and has ghostwritten and published the autobiography of Sean Kelly, as well as a number of other sports icons.