Some meldonium users could escape punishment after WADA clarifies rules
A grey area around how long meldonium stays in your system means some athletes with low levels found in their sample could escape punishment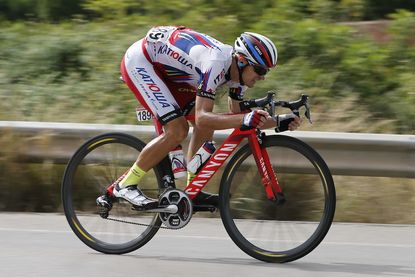 (Image credit: Yuzuru SUNADA)
Athletes who have tested positive for meldonium may receive no punishment if less than one microgram of the drug was detected in their sample.
The drug was banned by the World Anti-Doping Agency on January 1 and only athletes failing a test before March 1 could be in for a reprieve due to the length of time that the drug could stay in an athlete's system.
A Latvian manufacturer of the drug claimed that it could take 'several months' for the drug to leave an athlete's body, meaning those who ceased taking it before January 1 could still have been caught out.
Now, a WADA ruling means some athletes may receive "negligence" or "no fault" rulings, according to insidethegames.biz.
"In the case of meldonium, there is currently a lack of clear scientific information on excretion times," WADA said in a statement.
"For this reason, a hearing panel might justifiably find (unless there is specific evidence to the contrary) that an athlete who has established on the balance of probabilities that he or she ingested meldonium before 1 January 2016 could not reasonably have known or suspected that the meldonium would still be present in his or her body on or after 1 January 2016.
"In these circumstances, WADA considers that there may be grounds for no fault or negligence on the part of the athlete.
"Cases where the concentration is below 1 mcg and the test was taken before 1 March 2016 are compatible with an intake prior to January 2016.
>>> Why Maria Sharapova's meldonium positive raises questions for cycling too
"If the anti-doping organisation finds that the athlete could not reasonably have known or suspected that the substance would still be present in his/her body on or after 1 January 2016, then a finding of no fault or negligence may be made."
Over 140 athletes have already tested positive for the drug since January 1, according to WADA, while Russian sports minister Vitaly Mutko claimed there could be several hundred athletes who had used the drug before its ban.
Katusha cyclist Eduard Vorganov was provisionally suspended in February after testing positive for the drug but is yet to be sanctioned.
Thank you for reading 20 articles this month* Join now for unlimited access
Enjoy your first month for just £1 / $1 / €1
*Read 5 free articles per month without a subscription
Join now for unlimited access
Try first month for just £1 / $1 / €1