Milan-San Remo re-routed due to landslide
Rockfall on route of Milan-San Remo this morning leads to 9km detour on a motorway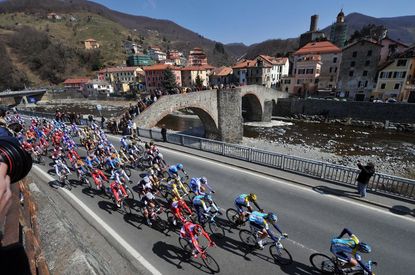 (Image credit: Watson)
The route of Milan-San Remo has been altered to bypass a large landslide that has blocked the road just after the Turchino climb in Arenzano.
Local media outlet Repubblica reports that three parked cars were crushed by the falling rocks and that two pedestrians were injured.
Police and race organisers worked together to try and come up with a suitable detour for the race, which started in Milan this morning.
A statement issued by the race director said: "Due to a landslide on the Milan-San Remo original race course in between Genova Voltri and Arenzano, the Race Direction together with the Police Support Officer decided to divert the race onto the A10 highway, entering in Genova Voltri and exiting in Arenzano to rejoin the original course. This detour is now officially part of the race course."
The riders will take a nine-kilometre detour using a stretch of the A10 motorway, which bumps the total distance up from 291km to 295km.
Thank you for reading 5 articles this month* Join now for unlimited access
Enjoy your first month for just £1 / $1 / €1
*Read 5 free articles per month without a subscription
Join now for unlimited access
Try first month for just £1 / $1 / €1