Milton Keynes to Aberdeen for 34 days if Steven Abraham is to beat mileage record
Steven Abraham had his attempt disrupted by a crash with a moped in the spring, but he is still targeting a year record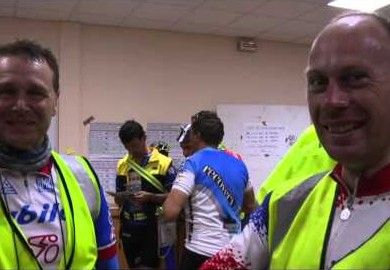 Steven Abraham will have to cycle the distance from his Milton Keynes home to Aberdeen every day, if he is beat to Tommy Goodwin's 1939 annual mileage record.
Abraham set out in January this year with the aim of beating Goodwin's mileage record of 76,065 miles (120,805km) and then riding a near-seven thousand miles extra to finish with a total of 82,835 miles.
>>> Steven Abraham battles ice and frozen bottles in year distance attempt
To do so, Abraham had to ride 205 miles a day, with him far exceeding that total at times and being well up on Goodwin's pre-World War II record that has stood for over seven decades.
But a collision with a moped in April fractured his ankle and he was forced to sit out for two weeks. Although he returned to the bike, it took him a further seven weeks to ride above 1,200 miles each week again.
>>> Jersey launched to support Steve Abraham's year mileage attempt
Abraham is back riding at distances approaching 200 miles and is now targeting the record of the most distance travelled in 365 days, as opposed to the most distance ridden in a calendar year.
If, however, he was still to target Goodwin's record, then he would need to average more than 490 miles each day for the remaining 34 days of 2015; he is more than 16,500 miles shy of Goodwin's mileage.
Thank you for reading 20 articles this month* Join now for unlimited access
Enjoy your first month for just £1 / $1 / €1
*Read 5 free articles per month without a subscription
Join now for unlimited access
Try first month for just £1 / $1 / €1